BMW 5 Series: Operating temperature
The positions of the rotary valve at engine operating temperature are shown by area C of the circuit diagram.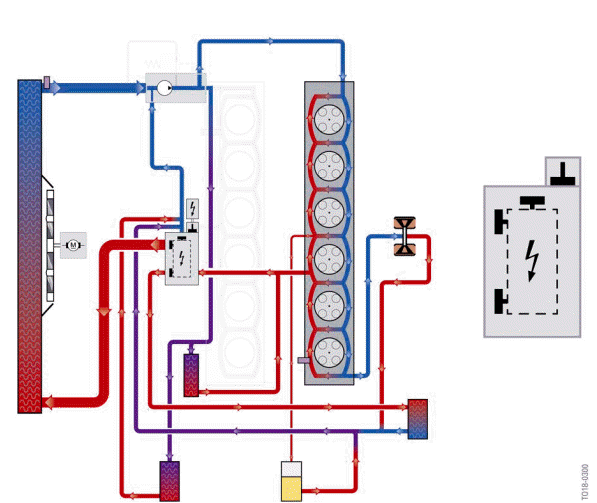 Operating temperature, Bx8TU engine
The graphic shows control with the engine at operating temperature. The position of the rotary valve means that the cross-sections of the respective coolant lines are open to a greater or lesser extent depending on the coolant temperature. The coolant flows with a varying volumetric flow through the small coolant circuit, the large coolant circuit and the heater circuit. Depending on the load request, the crankcase's coolant connection is opened by the electric split cooling valve, thus cooling the crankcase. Large engine operation ranges are covered with the crankcase coolant circuit closed.
Maximum cooling requirement
The maximum cooling requirement is shown at point E of the heat management module circuit diagram.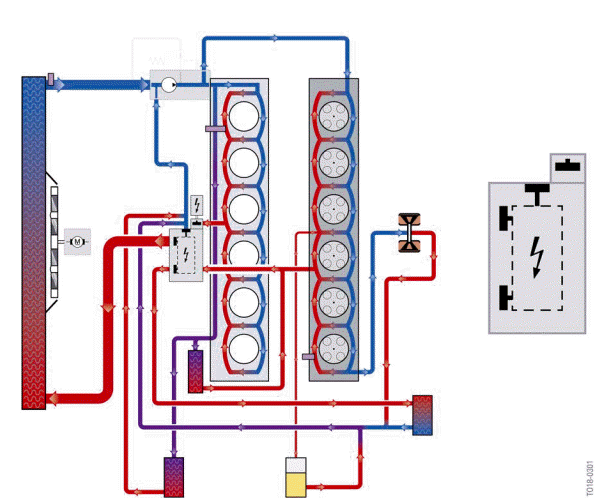 Maximum cooling requirement, Bx8TU engine
To provide maximum cooling at high dynamic loads and/or high ambient temperatures, the radiator connection is fully opened (100%) and the small coolant circuit is completely closed. Additionally, the heater circuit is 90% closed to achieve the maximum cooling thanks to the maximum coolant volumetric flow through the large coolant circuit.
READ NEXT:
The layout and function of the coolant pump have been revised and adapted to match the cooling concept of the Bx8 TU engines. Coolant pump, Bx8TU engine Pressure relief valve closed (pr
On-board diagnosis Feed-in point of the blow-by gases to the clean air line upstream from the exhaust turbocharger Non-return valve Connection to exhaust turbocharger Captive screws Crankcase
SEE MORE:
The system wiring diagram on the next page shows an overview of the system components used when parking and maneuvering the vehicle. Depending on the vehicle equipment, partial scopes may also be installed. G30 Parking and maneuvering system wiring diagram Ultrasonic sensors for Park Distance C
Vacuum pump Oil vacuum pump, B58/B58TU engine B58 engine, tandem oil pump with integrated vacuum pump B58TU engine, oil pump Vacuum pump Oil pump Vehicles with a gasoline engine and "traditional brake system" need a vacuum pump to boost the pedal force. In vehicles with a gasoline engine a