BMW 5 Series: Rear axle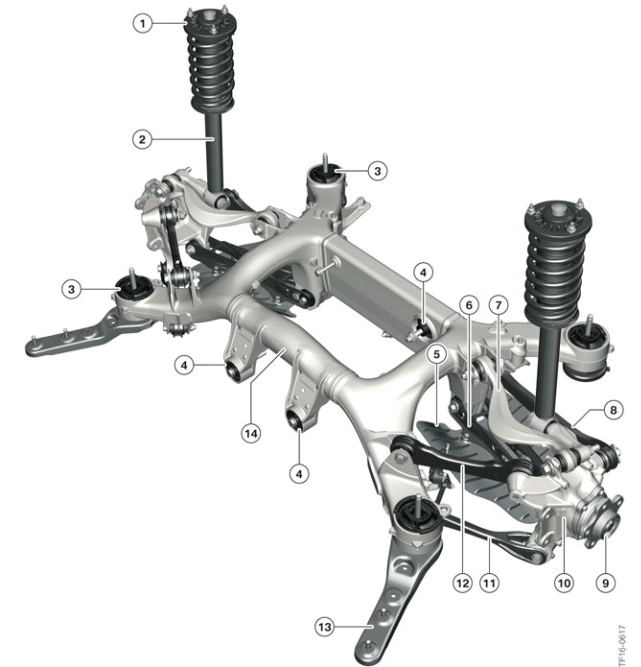 Five-link rear axle in the G30
Support bearing
Shock absorber
Rubber mount of the rear axle support on the body
Rubber mount of the rear axle support on the rear axle differential
Air deflector
Camber control arm
Wishbone
Camber link
Wheel bearing unit
Wheel carrier
Trailing arm
Control arm
Compression strut
Axle support
The five-link rear axle is characterized by precise wheel guidance with outstanding driving dynamics.
This is particularly noticeable with respect to the following characteristics:
Directional stability, target precision
Load transfer characteristics
Self-steering response
Lane changing stability
Transient handling characteristics (cornering/straight-ahead driving)
It has been possible to substantially reduce the conflict between the goals of driving dynamics and comfort by implementing the following measures:
The large support for the rear axle support and the preload-reduced axle construction are of great significance for the outstanding driving dynamics on the one hand and for acoustic decoupling on the other hand. This makes it possible to install powerful, high-torque engines and to reduce the introduction of road noise into the vehicle.
It has been possible to produce the various wishbones, with the exception of the upper wishbone, in a sheet steel design. Sheet steel wishbones offer similar weight advantages to aluminium forged wishbones, but are cheaper to produce. They are always used when a simple mounting geometry is used (straight wishbones). The top wishbone has been manufactured as an aluminium forged wishbone because of its more complex design.

Replacement of the rubber mounts on sheet steel wishbones as a service operation is not permitted.
The entire wishbone must be replaced in the event of wear to a rubber mount.
Notes for Service
The following table shows when wheel alignment is necessary on the rear axle when a component is replaced.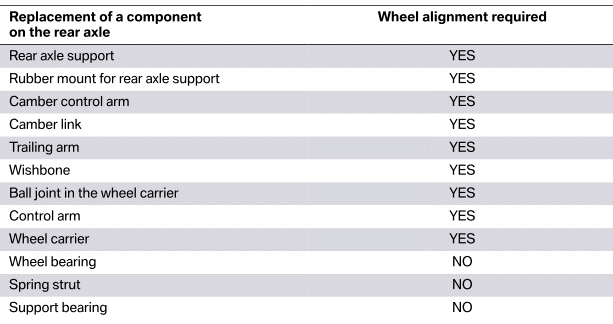 The following table shows when wheel alignment is necessary on the rear axle when a component is undone.


Rear axle positioning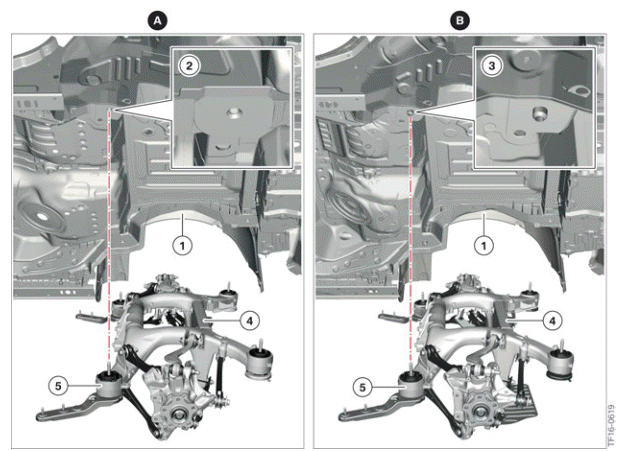 Comparison of rear axle on the G12 with the G30
Rear axle of the G12
Rear axle of the G30
Body
Mounting for rear axle support
Centering mounting for rear axle support
Rear axle support
Rubber mount of the rear axle support
On the G12, no centering mounting dowels are fitted on the body for alignment of the rear axle. A new special tool was used to align the thrust angle when installing the rear axle support.
The centering mounting dowels are used on the G30. No special tool is required for installing the rear axle support.
READ NEXT:
Overview of the brake system on the G30 Wheel speed sensor connector, front right Electric parking brake actuator Brake pad wear sensor connector, rear right (single-stage) Wheel speed sensor co
Wheel hub The hub and hole circle diameter on current vehicles produced by the BMW Group was modified in 03/2014. The hub diameter was reduced from 72.5 mm to 66.5 mm. The hole pattern was modified
SEE MORE:
G30 WiFi hotspot The BMW Internet optional equipment (OE 6AR) is no longer offered in the G30. The WiFi hotspot (OE 6WD) provides the capability of using the internet in the vehicle. The hotspot in the vehicle can be used for a fee once registered. The WiFi antenna is installed in the TCB2. Pro
System wiring diagram Rear exterior lights Digital Motor Electronics (DME) Electronic transmission control (EGS) Fuses in the power distribution box, front right Body Domain Controller (BDC) Fuse in the Body Domain Controller Rear light cluster, right outer Rear light cluster, right inner