BMW 5 Series: Coolant pump
The layout and function of the coolant pump have been revised and adapted to match the cooling concept of the Bx8 TU engines.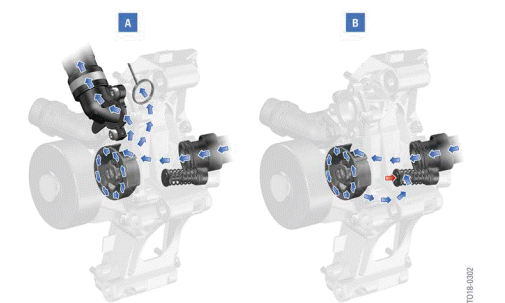 Coolant pump, Bx8TU engine
Pressure relief valve closed (pressure < 2.1 bar)
Pressure relief valve opened (pressure > 2.1 bar)
A pressure relief valve is installed in the mechanical coolant pump housing. In combination with the heat management module, the pressure relief valve on the one hand ensures that the engine operating temperature is reached more quickly, while at the same time reducing leaks and component damage due to high pressure in the cooling system.
If an excess pressure of more than 2.1 bar builds up in the coolant circuits, the pressure relief valve opens and releases a bypass channel. The coolant is now exclusively circulated in the pump body.
Once the pressure drops below 2.1 bar or the engine speed rises above 3000 rpm, the pressure relief valve closes and the coolant is again routed through the engine's coolant ducts.
READ NEXT:
On-board diagnosis Feed-in point of the blow-by gases to the clean air line upstream from the exhaust turbocharger Non-return valve Connection to exhaust turbocharger Captive screws Crankcase
B58TU exhaust turbocharger Exhaust turbocharger in the B58TU engine Exhaust turbocharger made of steel, for cylinder head-integrated exhaust manifold ZIAK¹ Exhaust turbocharger made of steel, f
SEE MORE:
General information The current head restraint position can be stored using the memory function. Safety information Warning A missing protective effect due to removed or not correctly adjusted head restraints can cause injuries in the head and neck area. There is a risk of injury. Before driving,
General information Follow the information regarding the connection of mobile devices to the USB interface in the section on USB connections. In the center armrest A USB interface is located in the center armrest. Properties: USB port Type C. For charging of mobile devices. Charge current: ma