BMW 5 Series: xDrive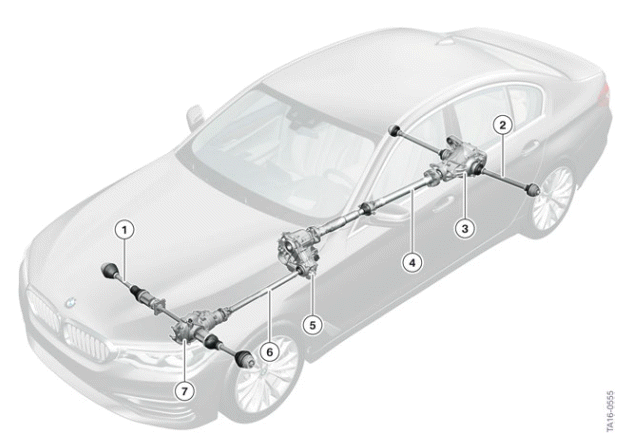 Overview of xDrive in the G30
Output shaft, front
Output shaft, rear
Rear axle differential
Drive shaft
Transfer box
Drive shaft
Front axle differential
The designation of the transfer box is ATC13-1. The ATC13-1 is a standard transfer box and was first used in the G12.
One special feature of this transfer box is the Efficiency Mode introduced in the G12, which leads to a reduction of the splash losses and to reduce fuel savings. It was possible to adopt the measures introduced in G12 for the G30.
Oil change on the transfer box
The oil filling of the transfer box is designed for the entire unit service life. This corresponds to a mileage of approximately 150,000 km / 92,000 miles. A fault code entry with an oil change recommendation for the transfer box is stored when this mileage is exceeded.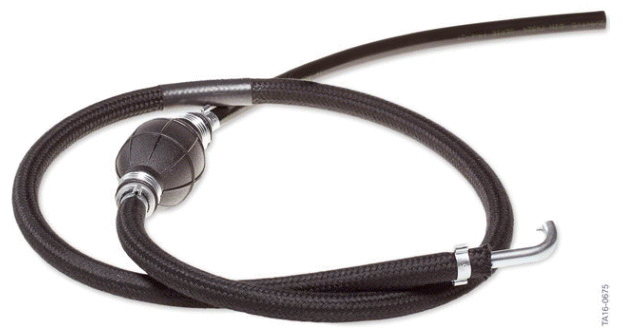 Suction hose with hand pump
Part number 83 30 0 493 337
The transfer box does not have an oil drain plug. The oil filling to be renewed must be drawn off using a hand pump via the opening of the oil filler plug.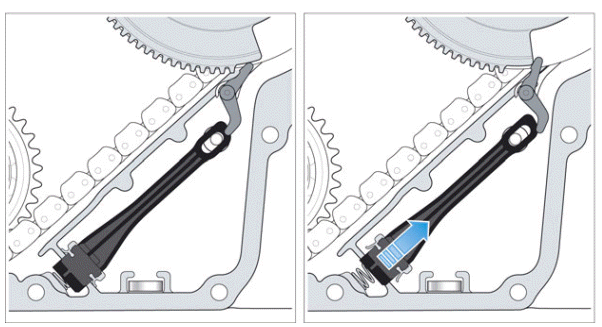 In order to ensure that the entire oil filling has been exchanged, the oil sump must remain open for the duration of extraction and filling.

The Service employee can move the oil sump to the open position by means of the "Service function > Transfer box VTG > Oil change" in the BMW diagnosis system ISTA.
Refer to the currently valid repair instructions for the exact procedure.
System wiring diagram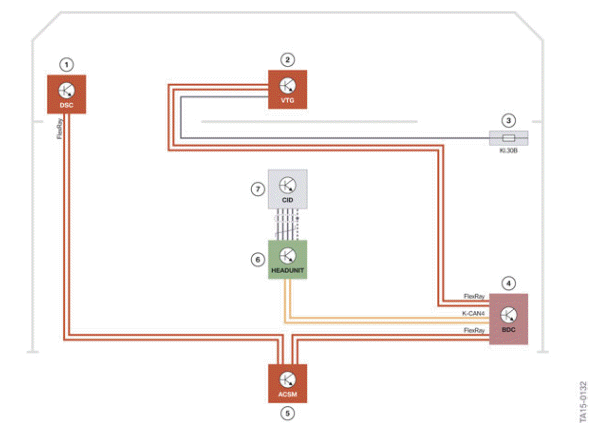 xDrive system wiring diagram in the G30
Dynamic Stability Control (DSC)
VTG control unit
Power distribution box, front right
Body Domain Controller (BDC)
Advanced Crash Safety Module (ACSM)
Head Unit
Central Information Display (CID)
FlexRay - FlexRay bus
K-CAN4 - Body CAN4
READ NEXT:
Introduction The electrical system of the new BMW 5 Series is based on the G12. The following topic is described in the Technical Reference Material for "ST1501 G12 Complete Vehicle".
Bus overview ACC - Active Cruse Control also known as Long Range Radar sensor (LRR) ACSM - Advanced Crash Safety Module AMPT - Top HiFi amplifier ASD - Active Sound Design BDC - Body Domain Controlle
SEE MORE:
Double-wishbone front axle in the G30 Support bearing Wishbone, lower Steering box Cross member Universal joint of steering shaft to steering gear Cast side section Strut Service opening Rear stiffening label Steering shaft Universal joint of steering shaft to steering column Triangle
General information The engine oil quality is critical for the life of the engine. Only add the types of engine oil which are listed. Safety information NOTICE Oil additives can damage the engine. There is a risk of damage to property. Do not use oil additives. NOTICE Incorrect engine oil can cause