BMW 5 Series: User Interface
Introduction
The G30 contains a new user interface. It is referred to as the ID6 (BMW iDrive of the 6th generation).
Marketing refers to the user interface of the G30 as the "New Interface Design".
The user interface of the G12 is referred to as the ID5. Although they have the same head unit (HU- H2), the vehicles have a different user interface. The breakdown of the individual menus is identical to the user interface of the G12.


G30 CID main menu
Innovations
Content of the tiles
The contents of the following tiles can be personalized:
Navigation
On-board computer
Reduced on-board computer
On-board computer
Driving style analysis
ConnectedDrive
Some examples are listed:
Weather
News
Wiki Local
Yelp
My News
The setting is made in the "My vehicle" menu or in the main menu by pressing the OPTION button on the controller.
Live tiles
The information on the tiles is displayed in real-time. Thus, for example, an active navigation can continue to be used in the main menu.
Detailed view
Double-clicking on the menu button on the controller changes the display on the main menu to three larger tiles.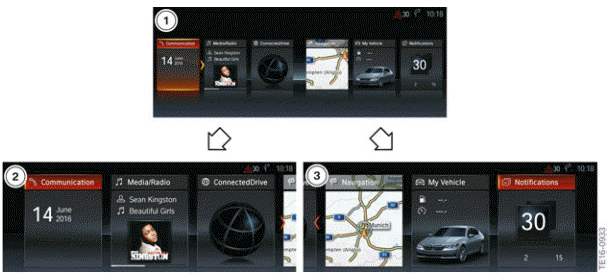 G30 Detailed view of the tiles
View of all 6 tiles
Detailed view of the 3 left-hand tiles
Detailed view of the 3 right-hand tiles
Individual arrangement
The tile arrangement is not fixed. The order of the tiles can be adjusted to individual requirements.
Now with the Head Unit High 2 (HU-H2), the tiles can be moved using the touch function similar to the method used on a smartphone.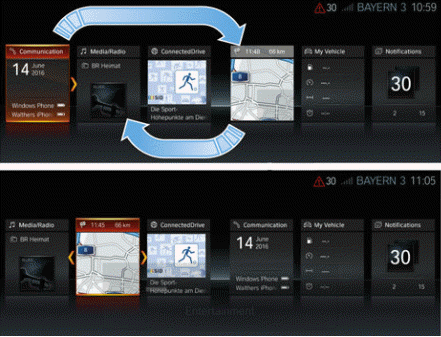 G30 Individual arrangement of the tiles
The tiles can also be moved via the controller.


G30 Arrangement of the tiles via the controller
Favorites
In the G12, the favorites (the last 20 menus selected) are not called up by double-clicking the menu button on the controller but by pressing and holding the BACK button on the controller. Double- clicking on the menu button on the controller changes the view in the main menu from 6 to 3 tiles (or vice versa).

G30 CID favorites
Direct opening
In vehicles with a CID with touch function, the displayed menu can be opened directly.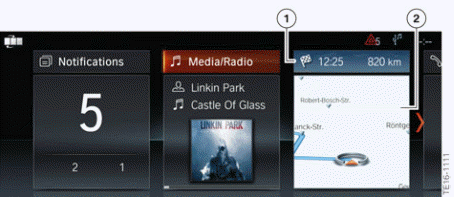 G30 Direct menu opening
Selecting the menu item opens the respective main menu
Selecting the graphic opens the displayed menu
Menu adjustment
The large number of new functions and applications can be used to configure a part of the menu.
In the "Adjust menu" submenu, the lists can be individualized to obtain a better overview. Thus, the AM stations can be removed from the radio list, for example.
The following menus can be customized:
Radio/Media
Communication
ConnectedDrive
Media/radio
Stored stations
FM
AM
Online Entertainment
Music collection
Bluetooth audio
CD/DVD
Screen mirroring
USB
Communication
BMW Assistant
BMW Messages
News
Email
Calendar
Tasks
ConnectedDrive
The adjustment in the ConnectedDrive menu is country-specific due to the BMW Apps.
ConnectedDrive Store
BMW Assistant
Concierge Service
BMW Messages
Weather
News
Online search
Wiki Local
READ NEXT:
Overview A gesture control is available as optional equipment (OE 6U8) for the G30. The function and the detection range of the gesture camera in the roof function center (FZD) is identical to
Overview The buttons of the multifunction steering wheel in the G30 are unchanged compared to those in G12. Part of the assistance system is operated on the left side. Multimedia functions are oper
Overview The functions of the driving experience switch are identical to those of the G12 except for the following. The following table shows a comparison of the functions of the driving experience
SEE MORE:
G30 Park Distance Control system components Ultrasonic sensors for Park Distance Control, front Central Information Display (CID) Operating unit Control unit for Parking Maneuvering Assistant (PMA) Ultrasonic sensors, Park Distance Control, rear Head Unit High Vehicles that do not have the
Concept PDC is a support when parking. Objects that you are approaching slowly in front of or behind the vehicle are indicated by signal tones and a display on the Control Display. With Parking Assistant: obstacles on the side of the vehicle that are detected by the sensors of the parking assistan