BMW 5 Series: Gesture Control
Overview
A gesture control is available as optional equipment (OE 6U8) for the G30.
The function and the detection range of the gesture camera in the roof function center (FZD) is identical to that in the G12.
Innovations
In the G30, new functions are possible for selected gestures. The previous functions have been adopted from the G12 without change. The following table lists the functions: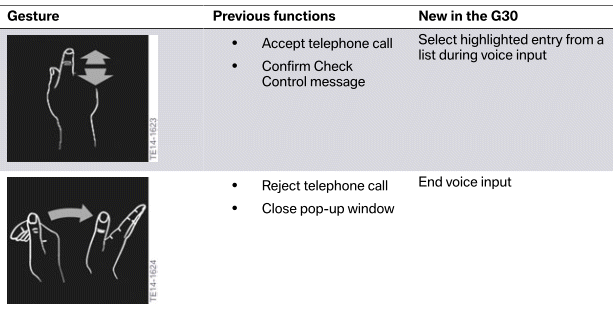 The remaining gestures and their functions remain unchanged. Further information on this can be found in the Technical Reference Manual for "ST1501 G12 Complete Vehicle, Display and Controls" section.
READ NEXT:
Overview The buttons of the multifunction steering wheel in the G30 are unchanged compared to those in G12. Part of the assistance system is operated on the left side. Multimedia functions are oper
Overview The functions of the driving experience switch are identical to those of the G12 except for the following. The following table shows a comparison of the functions of the driving experience
SEE MORE:
Overview The rear seat entertainment in the G30 is available as optional equipment (OE 6FH). The rear seat entertainment corresponds to that of the G12, with the difference that the G30 does not include the BMW Touch Command for controlling the rear seat entertainment. The rear seat entertainmen
Measures at the solenoid valve injector The following graphic illustrates the differences between the EURO 6b and EURO 6c versions: EURO 6 measures, solenoid valve injector Solenoid valve injector HDEV5 Bx8 engine, EURO 6b Solenoid valve injector HDEV5 EVO Bx8 engine, EURO 6c Solenoid valve i