BMW 5 Series: Rear view camera
The rear view camera supports the driver when parking and maneuvering. The area behind the vehicle is recorded by the rear view camera and shown on the Central Information Display.


G30 Rear view camera image in the CID
Moving camera angle
When the moving camera angle is selected, a circular trajectory is shown around the vehicle on the Central Information Display. Predetermined angles can be selected on the circular trajectory by turning the controller or using the touch function.
In vehicles with the Gesture Control, optional equipment (OE 6U8), the moving camera angle can also be controlled in this way.
The current angle is identified by a camera symbol. Depending on the view, the surroundings of the vehicle or a partial area of the surroundings are shown on the Central Information Display.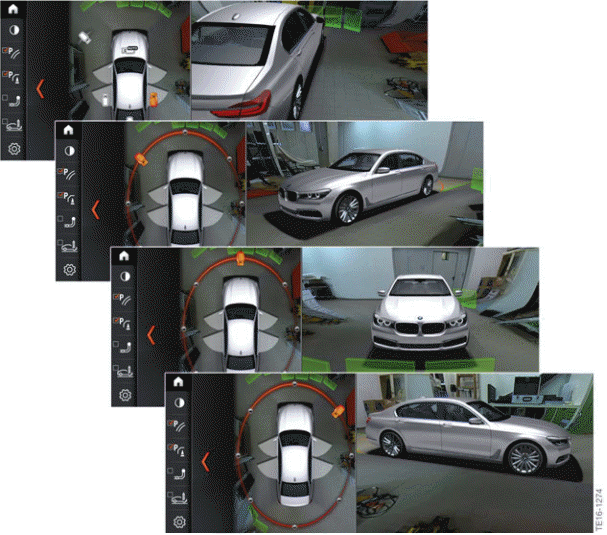 G30 Exterior camera view (moving camera angle) on the CID
To leave this view, tilt the controller to the side, press it or touch the highlighted camera symbol via the touch screen.
If Gesture Control is being used, the gesture symbol is shown on the right half of the Central Information Display screen.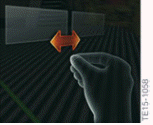 Rotating the camera view using Gesture Control
READ NEXT:
Once the camera systems have been activated successfully, the driver has the option of selecting the appropriate view or camera via iDrive. G30 Switch block with Panorama View button Parking assis
The following assistance functions are available: Car wash view Side protection Door opening angle Car wash view The car wash view assists the driver when entering a car wash. When the car wash
The Remote 3D View (Remote 360º) is provided for the first time on the G30. This function allows the customer to display images of his parked vehicle on a mobile device (such as a smartph
SEE MORE:
Safety information Warning A missing protective effect due to removed or not correctly adjusted head restraints can cause injuries in the head and neck area. There is a risk of injury. Before driving, install the removed head restraints on the occupied seats. Adjust the head restraint so its cen
ABS prevents locking of the wheels during braking. The vehicle maintains its steering power even during full brake applications, thus increasing active safety. ABS is operational every time you start the engine. Brake assistant When you apply the brakes rapidly, this system automatically boosts th