BMW 5 Series: Overview of exterior camera operating menu
Once the camera systems have been activated successfully, the driver has the option of selecting the appropriate view or camera via iDrive.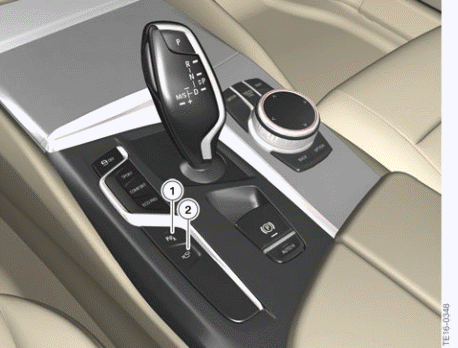 G30 Switch block with Panorama View button
Parking assistance button
Panorama View button
The camera systems can be activated (depending on the vehicle equipment) as follows:
Manually by pressing the parking assistance button or the camera button (Panorama View).
By engaging drive position "R".
By engaging reverse gear (on vehicles with a manual gearbox).
Automatically via the "Auto PDC" function.
Automatically via the GPS-supported automatic activation of the Panorama View function, provided that activation points have been saved.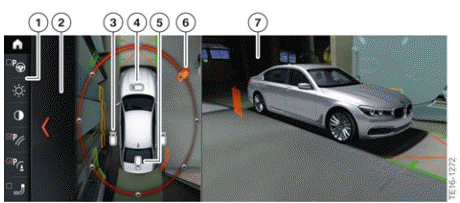 G30 Exterior cameras view (camera angles) on the CID
Toolbar
Selection window
Side view
Automatic camera angle
Rear view camera
Moving camera angle
Camera image
Other settings and options can be found in the toolbar, depending on the vehicle equipment. Thus, for example, the driver can switch the parking assistance lines, the obstacle marking etc. on and off, or also make adjustments to the image brightness and contrast. The driver can also activate or deactivate the assistance functions here such as the car wash view, for instance.
READ NEXT:
The following assistance functions are available: Car wash view Side protection Door opening angle Car wash view The car wash view assists the driver when entering a car wash. When the car wash
The Remote 3D View (Remote 360º) is provided for the first time on the G30. This function allows the customer to display images of his parked vehicle on a mobile device (such as a smartph
Front camera The front camera is installed in the center between the two front ornamental grilles on the G30. G30 Front camera Top view camera The two are installed in the exterior mirrors on the G3
SEE MORE:
The detection of objects can test the ultrasonic measurement system to its limits. Several examples of this are shown below: With trailer towbars and couplings. If the objects are thin or wedge-shaped. If the objects are projecting and elevated, e.g. wall projections or loads. If the objects
The system is operated by pressing the Intelligent Safety button and using a menu to configure the Intelligent Safety systems on the Central Information Display (CID). G30 Intelligent Safety overview configuration menu "Intelligent Safety" configuration menu "ALL ON" selection Note for the dri