BMW 5 Series: Lane Keeping & Traffic Jam Assistants
What drivers wish for most while driving is relief from monotonous situations such as sitting in a jam or slow moving traffic. In addition to Active Cruise Control with Stop&Go function, drivers are now also supported by Active Lane Keeping Assistant. The Active Lane Keeping Assistant was first introduced in the G12.
The Active Lane Keeping Assistant and Traffic Jam Assistant are part of the Active Driving Assistant Plus, optional equipment (OE 5AT).
The system assists the driver in keeping the vehicle in lane by initiating corrective steering interventions if required.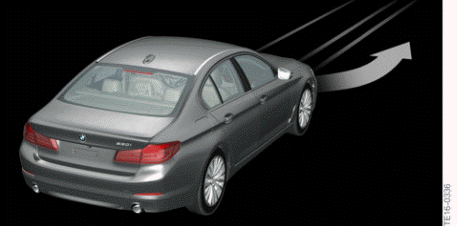 G30 Active steering intervention
READ NEXT:
Depending on the speed, the system is guided by the lane edges or vehicles driving ahead. The position of the lane edges and the vehicle driving ahead is determined with the help of five radar sens
The following prerequisites must be met in order for the Active Lane Keeping Assistant and Traffic Jam Assistant to be used: Speed must be below 130 mph (210 km/h). Above 43 mph (70 km/h
If the current course of the vehicle deviates too much from the target trajectory (path curve), a steering correction is initiated. The steering intervention is a corrective measure. This means the
SEE MORE:
Concept The Auto Start/Stop function helps save fuel. The system switches off the engine during a stop, for instance in traffic congestion or at traffic lights. Drive-ready state remains switched on. The engine starts automatically for driving off. General information After each engine start using
Concept Pressing the Start/Stop button switches drive-ready state on or off. Steptronic transmission: the drive-ready state is switched on when you depress the brake pedal while pressing the Start/Stop button. Pressing the Start/Stop button again switches drive-ready state back off and standby st