BMW 5 Series: Introduction, Display
Introduction
There is only one instrument cluster available with the launch of the G30. The instrument cluster has an 8.8" TFT display and therefore allows for situation-dependent display of information that is relevant to the driver. This flexible display of information achieves a maximum degree of clarity and comfort and is used among other things for the following improvements:
Minimization of driver distraction by optimum arrangement of related functions and situation- based displays.
Improvement of the driving experience by the display hierarchy and design adapted to the driving situation.
Improved driving comfort through the display of new indicating instruments and functions (e.g. picture-in-picture map display on the instrument cluster).


Overview of the G30 instrument cluster
Display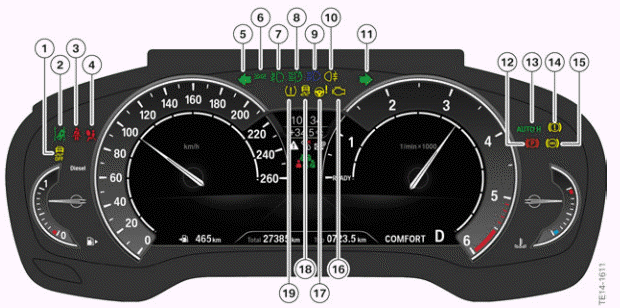 BMW 5 Series instrument cluster warning and indicator lights
Dynamic Stability Control deactivated; Dynamic Traction Control activated
Lane departure warning
Seat belt warning
Airbag warning light
Turn signal indicator light / Hazard warning, left
Side light and/or low-beam headlight active
Fog light
High-beam assistant
High-beam headlight
Fog light
Turn signal indicator light / Hazard warning, right
Parking brake
Automatic Hold activated
Brake system
Anti-lock Brake System (ABS)
Engine malfunction
Steering system
Dynamic Stability Control
Tire pressure control
READ NEXT:
The displays of the instrument cluster are displayed depending on the driving mode selected. A distinction is made between the 3 following modes on the BMW 5 Series: Comfort Sport ECO Pro BMW
The Showroom mode enables you to view the various instrument cluster displays and the Head-Up Display during a "virtual" journey. The Showroom mode is started via the test functions of the instrumen
Overview A Touch Controller is installed in the G30: G30 Controller Controller Direct access keys Menu MEDIA COM MAP NAV BACK OPTION Controller with a touch control box The touch entry is p
SEE MORE:
Detection range The detection capacity of the system and the automatic braking capacity are limited. Two-wheeled vehicles for instance might not be detected. Deceleration The system does not decelerate in the following situations: For pedestrians or similarly slow-moving road users. For red tr
General information All washer nozzles are supplied from one reservoir. Use a mixture of tap water and windshield washer concentrate. If desired, a windshield washer concentrate containing antifreeze can be used. Recommended minimum fill quantity: 0.2 US gal/1 liter. Safety information Warning Som