BMW 5 Series: Controller
Overview
A Touch Controller is installed in the G30: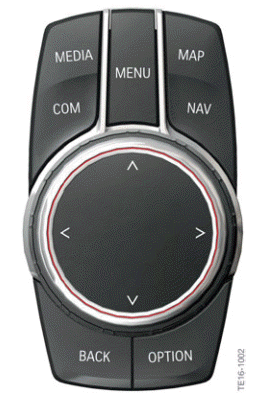 G30 Controller
Controller
Direct access keys
Menu
MEDIA
COM
MAP
NAV
BACK
OPTION
Controller with a touch control box
The touch entry is processed in the head unit. A separate control unit Touchbox (TBX) is not installed.
Function
There are differences in how to operate the controller compared to G12:
In the G30, double-clicking on the menu button does not open the favorites list but enlarges the view of the main menu in the CID.
The favorites list is opened by pressing and holding the BACK button.
Central Information Display
Overview
In the G30, a 10.25" display with touch operation is standard.


G30 Central information displays
The operation and functions of the 10.25" CID with touch function are identical to those in the G12.
READ NEXT:
Introduction The G30 contains a new user interface. It is referred to as the ID6 (BMW iDrive of the 6th generation). Marketing refers to the user interface of the G30 as the "New Interface Design".
Overview A gesture control is available as optional equipment (OE 6U8) for the G30. The function and the detection range of the gesture camera in the roof function center (FZD) is identical to
Overview The buttons of the multifunction steering wheel in the G30 are unchanged compared to those in G12. Part of the assistance system is operated on the left side. Multimedia functions are oper
SEE MORE:
Navigation settings can be individually configured. Settings are stored for the driver profile currently used. Services Concept The vehicle offers different functions, whose use requires a data transfer to BMW or a service provider. The data transfer can be deactivated for some functions. General
Two airbag front sensors are installed in the front area of the engine supports. The measured values are forwarded to the Advanced Crash Safety Module (ACSM) where they are evaluated. The airbag front sensors on the left and right assist with the identification of a head-on crash. The sensors d