BMW 5 Series: Introduction
In the BMW 5 Series, interior design, functionality and comfort have reached an even higher level. The G30 is a pioneer in intuitive operation. The continually upgraded BMW iDrive system makes a range of fascinating new vehicle comfort and infotainment features available to both the driver and the passengers.
New features in the G30
The G30 is largely based on the G12 in regard to the displays and controls.
The following table compares the new features and changes to the displays and controls in G30 with those in the G12:

Features in common with G12
This product information only describes the differences to the G12. A detailed description of the following systems/functions can be found in the Technical Reference Manual "ST1501 G12 Complete Vehicle, Displays and Controls:
Instrument panel
Controller
Central Information Display
Gesture control
Driving experience switch
Overview of the interior
The following graphic provides an overview of the displays and controls of the G30: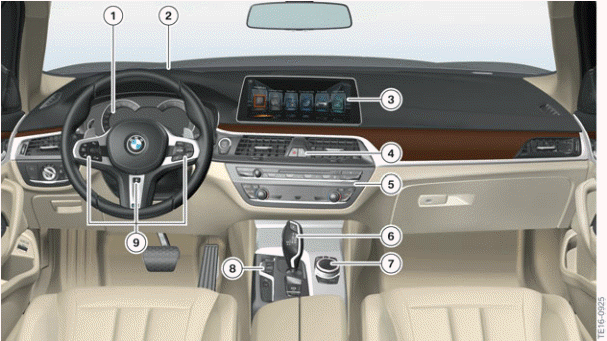 Overview of cockpit of G30
Instrument panel (KOMBI)
Head‐Up Display (HUD)
Central Information Display (CID)
Intelligent Safety button
Heating and air conditioning controls/radio operating unit
Gear selector switch (GWS)
Controller (CON)
Driving experience switch
Multifunction steering wheel
Controls in center console
The following graphic shows the controls in the center console of the G30: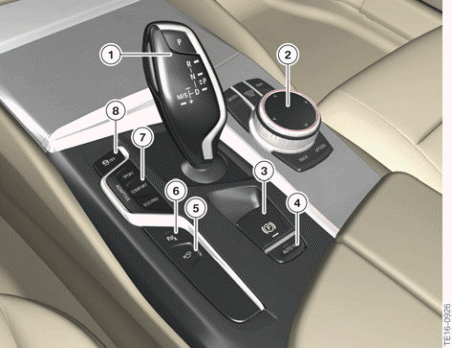 G30 Controls in center console
Gear selector switch (GWS)
Controller (CON)
Electromechanical parking brake
Automatic Hold
Surround view
Park Distance Control (PDC)
Driving experience switch
Dynamic Stability Control (DSC)
READ NEXT:
In the G30, the turn signal/high beam switch and the wash/wipe switch immediately engage when operated. The one-touch signalling and headlight flasher continue to function as before. This measure wa
Introduction There is only one instrument cluster available with the launch of the G30. The instrument cluster has an 8.8" TFT display and therefore allows for situation-dependent display of informa
SEE MORE:
History Historical overview of the BMW 5 Series E12 (1972-1981) E28 (1981-1987) E34 (1987-1995) E39 (1995-2003) E60/E61 (2003-2010) F10/F11 (2010-2016) G30 (SOP late 2016 as 2017 MY) Overview of system descriptions Many of the systems used are already known from the current BMW 7 Series G1
System overview of electric active stabilization in the G30 Electric active roll stabilization front (EARSV) Front right vertical acceleration sensor Auxiliary battery in the engine compartment Rear right vertical acceleration sensor Vertical Dynamics Platform (VDP) Rear right power distribu