BMW 5 Series: Gateway
Body Domain Controller (BDC)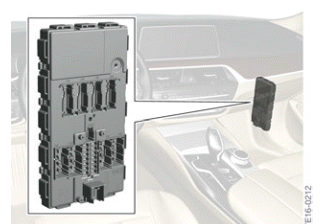 Body Domain Controller (BDC)
BDC functions
The Body Domain Controller BDC is responsible for the following functions:
Gateway
Electronic immobilizer
Terminal control
Central locking system
Exterior lights
Power windows
Horn
Interior light
Wash/wipe system
Vehicle data storage
Data transfer for Condition Based Service (CBS)
Fuses in the BDC
The following components are protected by fuses in the BDC:
Audio operating facility
Operating facility for assist systems
Operating unit for light
Power windows
Heated rear window
Trunk function module
Integrated automatic heating / air conditioning
OBD2 interface
Power Control Unit
Rain‐light‐solar-condensation sensor
Steering column switch cluster
Telematic Communication Box
Outside door handle electronics
Vertical dynamics platform (electronics)
Central locking system
Relay in the BDC
The following relays are located in the BDC:
Terminal 30F
Power window regulators
Central locking system
Heated rear window
Headlight cleaning system
Gateway in the BDC
The central gateway module (ZGM) is integrated in the BDC. It is a control unit within a control unit.
The task of the ZGM is to connect all the data bus systems to each other. By connecting them in this way, it is possible to use information from the individual bus systems on a generalized level. The central gateway module is able to implement different protocols and speeds on other bus systems.
The programming data for the control units is transmitted by Ethernet to the vehicle via the ZGM.
LIN controller in the BDC
The BDC is the gateway for the following components at the local interconnect network bus:
Exterior mirror, left and right
Switch block, driver's door, front passenger door
Steering column switch cluster
Light switch
Intelligent Safety button
Audio operating facility
Inside mirror
Rain‐light‐solar-condensation sensor
Roof function center (interior lighting)
Comfort seat, rear passenger compartment, left and right
Electrical steering column adjustment
Wiper
Operating unit, center console
Power distribution box, rear
The following control units are connected to the BDC via LIN, but the BDC has only a wake-up function and not a gateway or primary function:
Battery charging unit
Intelligent battery sensor
Electric fan
Active air flap control
Digital Motor Electronics
READ NEXT:
Head unit Head unit On the G30, the head unit can be operated by touch at the CID in addition to operation via the controller. In the case of optional equipment with gesture control, selected funct
Roof function center (FZD) Roof function center (FZD) Depending on the vehicle equipment the roof function center FZD includes the corresponding components for: Alarm system Control, slide/tilt s
Frontal Light Electronics Frontal Light Electronics Right and Left The control units Frontal Light Electronics Right (FLER) and Frontal Light Electronics Left (FLEL) are installed in the correspondi
SEE MORE:
Concept The system assists the driver in keeping the vehicle within the lane. For this purpose, the system executes supporting steering movements, for instance when driving in a curve. General information The system determines the position of the lane markings and the vehicle driving ahead using fiv
Concept Depending on the program, the massage function ensures relaxed muscles and better blood circulation and can avoid fatigue. General information Eight different massage programs can be selected: Pelvis activation. Upper body activation. Full body activation. Back massage. Shoulder massag