BMW 5 Series: BMW 540i engine technical data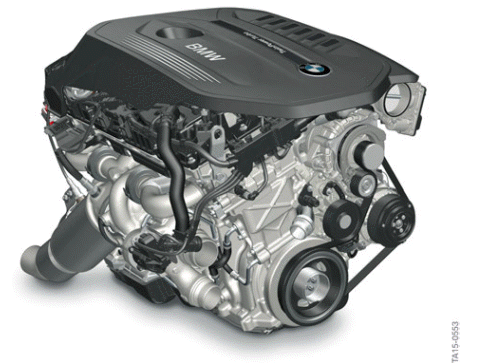 B58B30M0 engine in the G30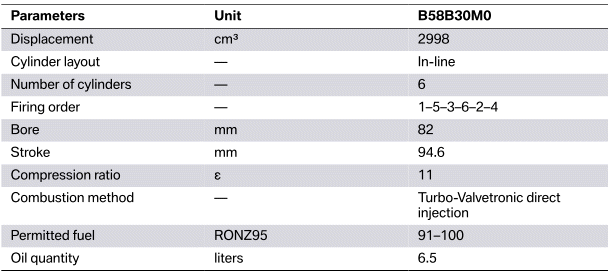 Engine highlights B58B30M0
List of the most important special features:
1. Direct rail injection system with 200 bar pressure.
2. Valvetronic 4th generation.
3. Heat management module.
4. Intake air system with integrated charge air cooler.
5. Twin-scroll turbocharger with electrical wastegate valve controller.
6. Exhaust manifold with expansion compensation elements.
7. Characteristic map-controlled oil pump with integrated vacuum pump.
8. 8th generation Digital Motor Electronics (DME).
Full load diagram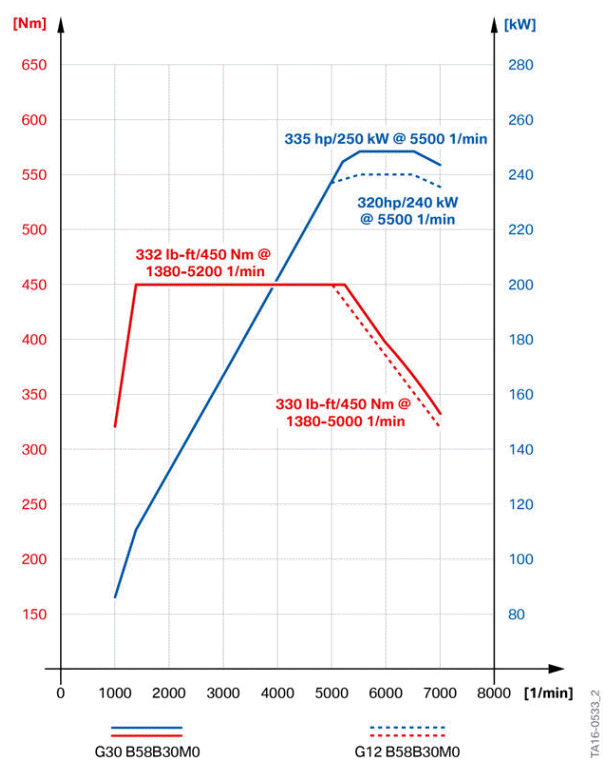 Full load diagram B58B30M0 engine
READ NEXT:
N63TU2 engine in the G30 Engine highlights N63B44O2 List of the most important special features: 1. Map-controlled oil pump. 2. Engine temperature management Split-Cooling-Combined (SCC). 3. Engin
B46/B58 Engine System wiring diagram B68/B58 engine in G30 Digital Motor Electronics (DME) Electric fan Relay for electric fan Power distribution box, engine compartment Pinion starter Air con
Air intake duct In contrast to the 4- and 6-cylinder gasoline engines, the 8-cylinder gasoline engine has a two-branch intake system. This ensures that the necessary air volume is made available to
SEE MORE:
Mounting the injectors Mounting bolts Plastic sleeve Holding clamp with bayonet fitting Rail Solenoid valve injector Cast lug The solenoid valve injectors are fastened to the holding clamp with a bayonet fitting. There is a plastic sleeve between the holding clamp and direct rail. This is
System overview of electric active stabilization in the G30 Electric active roll stabilization front (EARSV) Front right vertical acceleration sensor Auxiliary battery in the engine compartment Rear right vertical acceleration sensor Vertical Dynamics Platform (VDP) Rear right power distribu