BMW 5 Series: Fuel System
Fuel preparation
The fuel preparation has been modified to meet the requirements of emission legislation. The high pressure pump and the injectors have been revised and designed for a fuel injection pressure of 350 bar.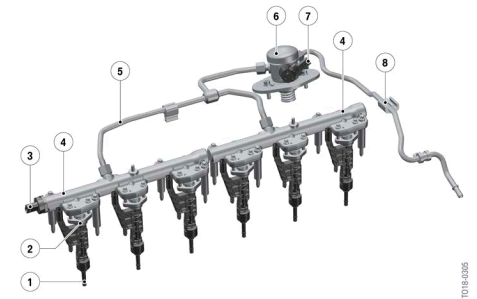 Fuel preparation, B58TU engine
Injector
Holding clamp
Rail pressure sensor
Rail
High-pressure line
High pressure pump
Quantity control valve
Fuel feed line

Strict cleanliness must be observed when carrying out any work on the fuel system!
READ NEXT:
Mounting the injectors Mounting bolts Plastic sleeve Holding clamp with bayonet fitting Rail Solenoid valve injector Cast lug The solenoid valve injectors are fastened to the holding clamp w
Measures at the solenoid valve injector The following graphic illustrates the differences between the EURO 6b and EURO 6c versions: EURO 6 measures, solenoid valve injector Solenoid valve injecto
SEE MORE:
BMW maintenance system The maintenance system indicates required maintenance measures, and thereby provides support in maintaining road safety and the operational reliability of the vehicle. In some cases, scopes and intervals of the maintenance system may vary according to the country version. Rep
The purpose of the front passenger airbag is to reduce the risk of accident to the front passenger in the event of a front-end crash. The front passenger airbag is located in the dashboard. When the front passenger airbag expands, the dashboard tears open at defined points. A two-stage gas genera