BMW 5 Series: Solenoid valve injector
Measures at the solenoid valve injector
The following graphic illustrates the differences between the EURO 6b and EURO 6c versions: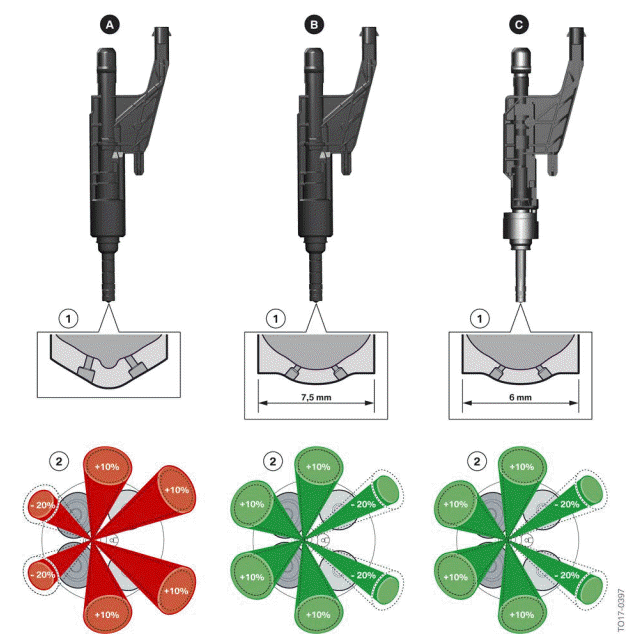 EURO 6 measures, solenoid valve injector
Solenoid valve injector HDEV5 Bx8 engine, EURO 6b
Solenoid valve injector HDEV5 EVO Bx8 engine, EURO 6c
Solenoid valve injector HDEV6 Bx8TU engine, EURO 6c
Injector seat
Injection pattern and volumetric distribution
The Bx8TU engines use the HDEV6 solenoid valve injector by Bosch. Due to the more stringent exhaust gas emission regulations required to meet the EURO 6c exhaust emission standards, technical changes were again made to the solenoid valve injectors.
Due to the fuel system pressure increase from 200 bar to 350 bar, the solenoid valve injectors HEDV6 were optimized using suitable materials and coatings. The injection pattern and volumetric distribution have not changed compared with the HDEV5 EVO.

The repair instructions that are currently valid must be carefully followed when removing and installing the injectors in Service. An excessive rotational angle at the injector shank, and excessive tensile and compressive forces during removal and installation can lead to damage and therefore leaks in the fuel system.
READ NEXT:
DME 8 control unit The 8th generation engine electronics form a common control unit platform for gasoline and diesel engines that have been used since modular engines were introduced. Its appearan
B58TU engine, component temperature sensor Component temperature sensor The B58TU engine uses a component temperature sensor in addition to the coolant temperature sensor to control the coolant
SEE MORE:
General information The engine oil consumption is dependent on your driving style and driving conditions. Therefore, regularly check the engine oil level after refueling by taking a detailed measurement. The engine oil consumption can increase in the following situations, for instance: Sporty dr
Air intake duct In contrast to the 4- and 6-cylinder gasoline engines, the 8-cylinder gasoline engine has a two-branch intake system. This ensures that the necessary air volume is made available to the engine in every load range. Gasoline engine air intake duct in the G30 B46 engine B58 Engine