BMW 5 Series: Direct rail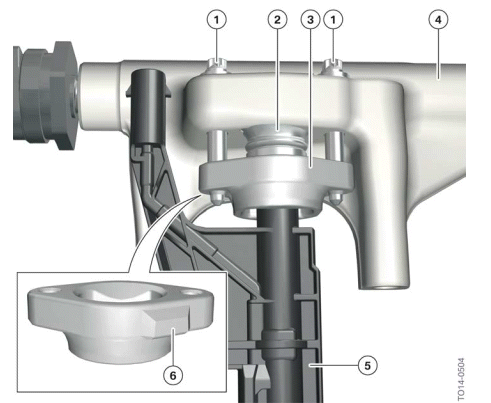 Mounting the injectors
Mounting bolts
Plastic sleeve
Holding clamp with bayonet fitting
Rail
Solenoid valve injector
Cast lug
The solenoid valve injectors are fastened to the holding clamp with a bayonet fitting. There is a plastic sleeve between the holding clamp and direct rail. This is not designed to collect escaping fuel. This is only used to support a helium leakage test during pre-assembly at the factory in order to check the tightness. After the initial assembly, this plastic sleeve is of no relevance to the engine operation. When the solenoid valve injectors are reinstalled or replaced, the plastic sleeves are no longer required and do not need to be reinserted.
The mounting bolts of the holding clamp must be replaced each time they are released.

The housing on the solenoid valve injectors is sensitive to excessive tensile forces and excessive rotational angles. When removing and installing the solenoid valve injectors, the procedure in the current repair instructions must be followed If the solenoid valve injectors are damaged, fuel may be discharged.
READ NEXT:
Measures at the solenoid valve injector The following graphic illustrates the differences between the EURO 6b and EURO 6c versions: EURO 6 measures, solenoid valve injector Solenoid valve injecto
DME 8 control unit The 8th generation engine electronics form a common control unit platform for gasoline and diesel engines that have been used since modular engines were introduced. Its appearan
SEE MORE:
New features in the G30 The G30 builds on the technology introduced in the 7 Series (G12). This Training manual describes the new features or changes with regard to the G12. The table below lists the new features and changes in the G30 compared to the G12: Further information The functions in th
Due to the ever increasing amount of traffic on our roads, Driver Assistance Systems in vehicles continue to gain in importance. The systems have different functions: some gather information to help the driver in the decision-making process, while others take on the driver's roles in monotonous t