BMW 5 Series: Chain drive
Features:
Chain drive at the side of the engine emitting the forces
Single-part chain drive for driving the camshafts
Single sleeve-type chain 8 mm
Electric motor of the combined oil-vacuum pump via a separate chain
Plastic tensioning and guide rail
Hydraulic chain tensioner with spring preload and sealing sleeve.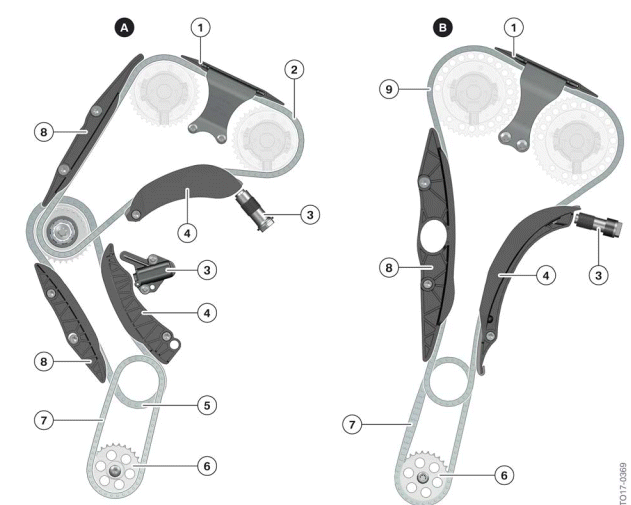 Comparison of the chain drive of B58 engine and B58TU engine
Two-part chain drive
Single-part chain drive
Slide rail
Top timing chain
Chain tensioner
Tensioning rail
Bottom timing chain
Camshaft sprocket, oil vacuum pump
Drive chain, oil vacuum pump
Guide rail
Timing chain
The main difference between the chain drive compared with the B58 engine is the move from a two- part timing chain drive to a single-part timing chain drive. Deflection via the intermediate shaft on the top timing chain and the second timing chain is no longer needed. The chains used here are 8 mm sleeve-type chains. Because the intermediate gearing is no longer needed, the number of teeth on the crankshaft (23 teeth) and the VANOS adjuster (46 teeth each) has also changed.
READ NEXT:
Comparison between chain track of B58 engine and B58TU engine Chain track, two-part timing chain drive B58 engine Chain track, single-part timing chain drive B58TU engine 6-cylinder engine Up
VANOS VANOS B58 engine VANOS B58TU engine Following the changeover from a two-part chain drive to a single-part chain drive, the camshaft sprockets on the VANOS now need 46 teeth instead of the
Vacuum pump Oil vacuum pump, B58/B58TU engine B58 engine, tandem oil pump with integrated vacuum pump B58TU engine, oil pump Vacuum pump Oil pump Vehicles with a gasoline engine and "traditio
SEE MORE:
Parking information is a new function in navigation. The parking information is called "On-Street Parking Information" in the vehicle menu. A probability of there being free parking spaces determined by calculating various values is shown on the navigation map. The data for this calculation is de
The airbag indicator light is located on the instrument panel. The airbag indicator light lights up and then goes out during the pre-drive check to signal readiness of the Advanced Crash Safety Module (ACSM) and passive safety systems. G30 Airbag indicator light Seat belt warning light A visual a