BMW 5 Series: Chain track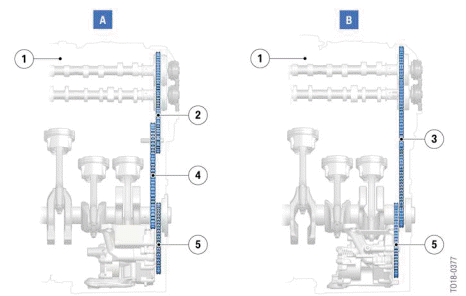 Comparison between chain track of B58 engine and B58TU engine
Chain track, two-part timing chain drive B58 engine
Chain track, single-part timing chain drive B58TU engine
6-cylinder engine
Upper timing chain
Timing chain
Lower timing chain
Drive chain, oil vacuum pump
The way the combined oil vacuum pump is driven via a separate drive chain from the crankshaft has not changed compared with the Bx8 engines. Only the change of the chain tracks has changed: The drive chain of the oil vacuum pump is now in front of the timing chain.
Dropping the second timing chain offers the following benefits:
Improved acoustics
Lower space requirement
Reduced weight
Chain tensioner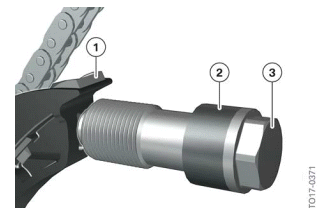 Chain tensioner, Bx8TU engine
Tensioning rail
Sealing sleeve
Chain tensioner with screw thread
Due to the cylinder head manufacturing process, the chain tensioner now has a sealing sleeve with a height of 12.5 mm instead of a sealing ring. The spring force of the chain tensioner lies between 40 Nm (extended) and 90 Nm (retracted).
READ NEXT:
VANOS VANOS B58 engine VANOS B58TU engine Following the changeover from a two-part chain drive to a single-part chain drive, the camshaft sprockets on the VANOS now need 46 teeth instead of the
Vacuum pump Oil vacuum pump, B58/B58TU engine B58 engine, tandem oil pump with integrated vacuum pump B58TU engine, oil pump Vacuum pump Oil pump Vehicles with a gasoline engine and "traditio
SEE MORE:
Concept Within the physical limits, the system helps to keep the vehicle on a steady course by reducing engine speed and by braking the individual wheels. General information DSC detects the following unstable driving conditions, for instance: Fishtailing, which can lead to oversteering. Loss of
There are two ways to activate the Parking Maneuvering Assistant function: Activation via parking assistance button Activation by "Engaging reverse gear" followed by "iDrive controller operation" Activation via parking assistance button When the PMA is activated via the parking assistance butt