BMW 5 Series: Side protection
The side protection warns against obstacles at the side of the vehicle and thus supports the driver when parking and maneuvering.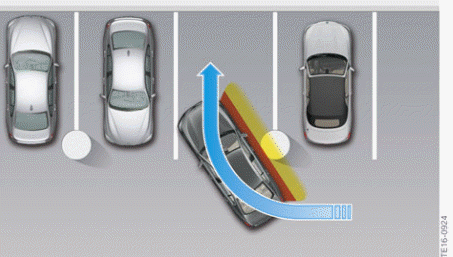 G30 Side protection
Vehicles with the Parking Assistant, optional equipment (OE 5DM), have side protection.
Obstacles detected by the four side ultrasonic sensors integrated in the bumpers can be displayed by the Park Distance Control system.

Functional principle
Four side ultrasonic sensors, two integrated in the front bumper and two integrated in the rear bumper, measure the distance to an obstruction. Obstructions detected by the sensors are tracked along the side of the vehicle as it moves. They are shown on the Central Information Display and, in situations where a collision is imminent, an acoustic warning also sounds.


G30 Side protection view on the CID
Obstructions approaching the stationary vehicle are not taken into account, as in this case the system cannot evaluate the situation unequivocally. The prerequisite for identifying obstructions is that the (driver's) vehicle is moving.
The distance markings shown on the Central Information Display are displayed for approximately 13 seconds once the vehicle has stopped. The markings are only shown again once the vehicle starts moving.
READ NEXT:
The Park Distance Control system is enabled in the following situations: If drive position R reverse gear is engaged when driving readiness is switched on. If the parking assistance button in the
Due to the physical limits during the ultrasonic measurement, obstructions may not be detected by the Park Distance Control system. Several examples of this are shown below: If the objects are thin
The Cross Traffic Alert was used for the first time in the G12. This warning assists the driver when maneuvering out of a parking space and in other everyday situations where it is difficult to see
SEE MORE:
Concept The system detects tire inflation pressure loss on the basis of rotation speed differences between the individual wheels while driving. In the event of a tire inflation pressure loss, the diameter and therefore the rotational speed of the corresponding wheel changes. The difference will be
The button is located in the center console. The red light in the button flashes when the hazard warning flashers are activated. Warning triangle The warning triangle is located on the inside of the trunk lid. Press on the release, arrow 1, and swivel the cover down, arrow 2. First-aid kit Gener