BMW 5 Series: Requirements on the parking space
The following graphic illustrates which conditions or prerequisites the parking space must meet to be able to use the Remote Control Parking function.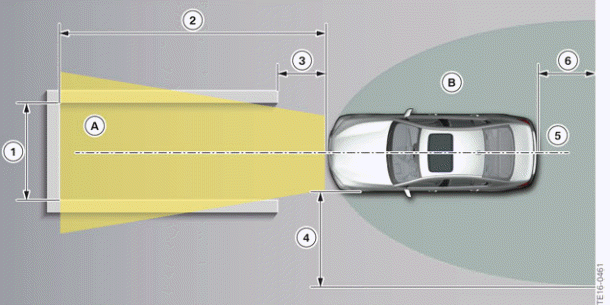 G30 Prerequisites for Remote Control Parking
Potential parking area
Operating range
Minimum parking space width 8.8 ft (2.7 m)
Maximum movement range 29.5 ft (9 m)
Distance to parking space, maximum 6.5 ft (2 m)
Maximum distance of driver from side of vehicle 5 ft (1.5 m)
Maximum 3º turn angle and 4 in (10 cm) offset to the center of the parking space are compensated for by small steering adjustments
Maximum distance of driver from rear of vehicle approximately 10 ft (3 m)
The Remote Control Parking assistance system can be used on gradients of no more than 5%. Use of the assistance system in two-level garages is not intended.
READ NEXT:
The Top Rear Side View Camera (TRSVC) and Optional Equipment System (SAS) control units are the central system components of the Remote Control Parking function. The Park Distance Control (PDC) and
Introduction Two cruise control functions can be used in the G30. The cruise control with braking function, Dynamic Cruise Control (DCC), is part of the standard equipment. ACC Stop&Go can
The cruise control with braking function is included as part of the G30's standard equipment. The system is also known as "Dynamic Cruise Control" (DCC). Dynamic Cruise Control (DCC) supports the dr
SEE MORE:
General information The engine oil consumption is dependent on your driving style and driving conditions. Therefore, regularly check the engine oil level after refueling by taking a detailed measurement. The engine oil consumption can increase in the following situations, for instance: Sporty dr
General information A selected entertainment source can be played back in the rear via: Individual Entertainment. Theater mode. Individual Entertainment Regardless of the active entertainment source in front, a separate entertainment source can be played in the rear. When Individual Entertain