BMW 5 Series: System overview
The Top Rear Side View Camera (TRSVC) and Optional Equipment System (SAS) control units are the central system components of the Remote Control Parking function. The Park Distance Control (PDC) and Parking Maneuvering Assistant (PMA) ultrasonic sensors, and the Surround View cameras record the area around the vehicle. The Comfort Access aerials and Remote Control Parking aerial are used to detect the location of the driver and BMW display key.
The following graphic shows the components required for Remote Control Parking in addition to those that make up the Parking Maneuvering Assistant function.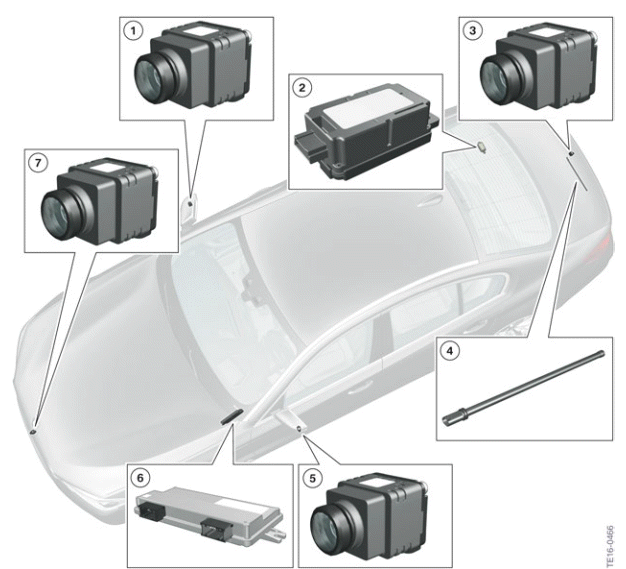 G30 Remote Control Parking system components
Right side view camera
Remote control receiver (FBD)
Rear view camera (RFK)
Remote Control Parking aerial
Left side view camera
Top Rear Side View Camera (TRSVC) control unit
Front camera
Limits of the system
Remote Control Parking cannot be used when trailer towing.
The function may be restricted in the following situations:
On uneven surfaces, e.g. gravel roads.
On slippery surfaces.
On steep inclines or downhill gradients.
If leaves have gathered or snow has piled up in the parking space.
If the emergency spare wheel is fitted.
If a parking space that has already been measured changes.
If there are ditches or chasms, e.g. harbor edges.
Due to the technical system limits of the ultrasonic measurement, the system may react incorrectly or not at all.
Limits of the ultrasonic measurement
If there are small children or animals.
If the sensors are dirty, iced up, damaged or incorrectly adjusted.
If trailer towbars and couplings are used to connect other vehicles.
If the objects are projecting and elevated, e.g. wall projections or loads.
Further information about Remote Control Parking may be found in the "G12 Driver Assistance Systems" reference manual.
READ NEXT:
Introduction Two cruise control functions can be used in the G30. The cruise control with braking function, Dynamic Cruise Control (DCC), is part of the standard equipment. ACC Stop&Go can
The cruise control with braking function is included as part of the G30's standard equipment. The system is also known as "Dynamic Cruise Control" (DCC). Dynamic Cruise Control (DCC) supports the dr
The Active Cruise Control with Stop&Go function (ACC Stop&Go) is offered as a function of the Active Driving Assistant Plus, optional equipment (OE 5AT), for the G30. ACC Stop&Go ad
SEE MORE:
Optimum adjustment of tire pressure is necessary for the following reasons: Best possible driving dynamics. Maximum utilization of tire service life. Reduction of the fuel consumption. Optimum operation of various suspension control systems. For this, the physical principles should be observed
General information Tracks from CDs and USB storage devices can be stored on the music hard disk in the vehicle and played from there. CD: the tracks are converted into a compressed audio format and stored in a directory that contains the name of the album. If no information about the album is