BMW 5 Series: Remote Control Parking
The Remote Control Parking assistant became available for the first time in the G12. This assistance system enables the vehicle to be maneuvered in and out of a parking space remotely using the BMW display key. The system assists the driver to park in tight parking bays or enclosed spaces (such as garages or in multi-story car parks), where it is difficult for the driver to get in and out of the vehicle.


G30 Remote Control Parking
Automatic parking in and reversing out of bay parking spaces is possible by activating the "remote- controlled parking" function on the display key.
The Remote Control Parking, optional equipment (OE 5DV), is only available for certain models and national-market versions. In addition, the assistance system can only be ordered in conjunction with the following equipment:
Steptronic sport transmission (OE 2TB)
Comfort Access (OE 322)
BMW display key (OE 3DS)
Parking Assistant Plus (OE 5DN)
Professional navigation system (OE 609)
The entire parking procedure is monitored by the Park Distance Control and Parking Maneuvering Assistant ultrasonic sensors and the Surround View cameras within their system limits. The driver is outside the vehicle while it is being parked. He must, however, check the situation around the vehicle by looking around and can cancel the parking procedure at any time using the BMW display key. If the driver leaves the operating range, the vehicle stops automatically.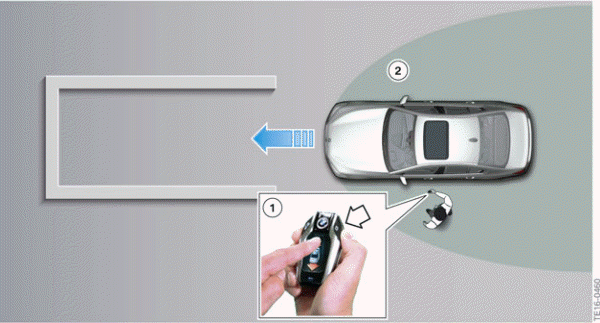 G30 Remote Control Parking
BMW display key
Operating area for remote controlled parking
READ NEXT:
The touch screen display and Remote Control Parking button on the BMW display key are used to operate the Remote Control Parking function. This makes the function intuitive to use and provides the d
The following graphic illustrates which conditions or prerequisites the parking space must meet to be able to use the Remote Control Parking function. G30 Prerequisites for Remote Control Parking
The Top Rear Side View Camera (TRSVC) and Optional Equipment System (SAS) control units are the central system components of the Remote Control Parking function. The Park Distance Control (PDC) and
SEE MORE:
Concept The vehicle can be remotely parked and driven out in reverse in the case of suitable forward-parking spaces, for instance a garage. The driver is not in the vehicle, but controls the parking procedure responsibly from the outside using the BMW display key. Stop the vehicles manually in t
Some of the Aluminum-steel connections in the G30 body structure are produced using a new body joining technique: flow drill screws. These include, for example, the connection between the engine support (Aluminum extruded profile) and the bulkhead carrier support (ultra-high-strength hot-formed s