BMW 5 Series: Cruise control with braking function
The cruise control with braking function is included as part of the G30's standard equipment. The system is also known as "Dynamic Cruise Control" (DCC). Dynamic Cruise Control (DCC) supports the driver on roads with less traffic by keeping the speed constant irrespective of rolling resistances (incline, downhill driving and vehicle load). In spite of the support, the driver remains responsible for control of the vehicle. It is possible to override the DCC function at any time by braking or accelerating the vehicle.
Operation
The driver has the option of adjusting the set speed in small or large increments, which is then set and maintained by the system by controlling the drive and brakes. It can be changed using the left- hand switch block on the multifunction steering wheel (MFL). The speed is increased or reduced by 1 mph by tapping the rocker switch. Each time the rocker button is pressed beyond the pressure point, the speed increases or reduces by 5 mph. The DCC steadily maintains a selected speed from approximately 20 mph (30 km/h).
The set speed is indicated in the instrument cluster in the familiar way; by a mark that moves round the speed reading. Notes are added to the displays in the instrument cluster, if necessary.
If the vehicle's own deceleration is not sufficient to maintain the preset speed, the brake is activated accordingly.
If ECO PRO or SPORT mode is activated, cruise control is also set to a fuel-efficient or sporty driving style. Due to the fuel-efficient driving style in ECO PRO driving mode, in some situations the vehicle's speed may exceed or drop below the set speed, for example on downhill gradients or inclines.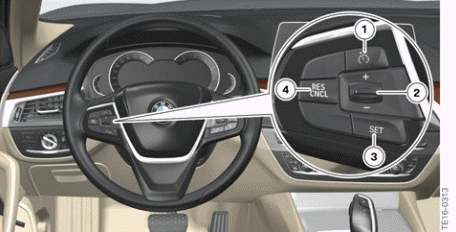 G30 Buttons of the Dynamic Cruise Control (DCC)
Button for activating or deactivating the Dynamic Cruise Control (DCC)
Rocker switch for changing the set speed
"SET" button for setting the speed of cruise control
Button for calling up a saved set speed/temporarily switching off the cruise control
The system is interrupted automatically in the following situations:
If the brakes are used.
If the selector lever position is moved out of position "D".
If the Dynamic Traction Control (DTC) is activated or the Dynamic Stability Control (DSC) is deactivated.
If the Dynamic Stability Control (DSC) is performing an adjustment.
READ NEXT:
The Active Cruise Control with Stop&Go function (ACC Stop&Go) is offered as a function of the Active Driving Assistant Plus, optional equipment (OE 5AT), for the G30. ACC Stop&Go ad
Activation and deactivation The activation and deactivation of the ACC Stop&Go and the Dynamic Cruise Control are almost the same. ACC Stop&Go can either be activated while driving or at
The driver has the option of setting a speed at which a warning is issued when the system is activated and the preset speed is exceeded. Operation The speed limit warning can be switched on and off i
SEE MORE:
Switching on Press the button on the steering wheel. Steering wheel symbol lights up gray. The system is on standby and does not manipulate steering. System activates automatically as soon as all function conditions are fulfilled. Steering wheel symbol lights up green. The system is active. Wi
Heat management module with electric split cooling valve Electric split cooling valve To guarantee optimal heat distribution during the cylinder head and crankcase warm-up, the coolant supply for the cylinder head and crankcase is controlled individually. The coolant is controlled by the Digi