BMW 5 Series: Mirrors
Exterior mirrors
General information
The mirror on the front passenger side is more curved than the driver's side mirror.
The mirror setting is stored for the driver profile currently in use. When the vehicle is unlocked via the vehicle key, the position is automatically retrieved if the function is activated for this purpose.
The current exterior mirror position can be stored using the memory function.
Safety information
Warning
Objects reflected in the mirror are closer than they appear. The distance to the traffic behind could be incorrectly estimated, for instance while changing lanes. There is a risk of accident.
Estimate the distance to the traffic behind by looking over your shoulder.
Overview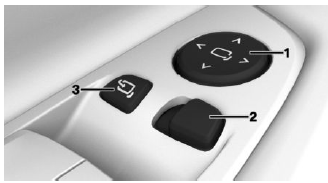 Adjusting
Selecting a mirror, Automatic Curb Monitor
Folding in and out
Adjusting electrically

Press the button.
The selected mirror moves along with the button movement.
Selecting a mirror

To change over to the other mirror: Slide the switch.
Malfunction
In case of an electrical malfunction, adjust the mirror by pressing the edges of the mirror glass.
Folding in and out
NOTICE
Depending on the vehicle width, the vehicle can be damaged in vehicle washes. There is a risk of damage to property. Before washing, fold in the mirrors by hand or with the button.

Press the button.
Folding is only possible up to a speed of approx. 15 mph/20 km/h.
Folding the mirrors in and out is helpful in the following situations:
In vehicle washes.
On narrow roads.
Mirrors that were folded in are folded out automatically at a speed of approx. 25 mph/40 km/h.
Automatic heating
Both exterior mirrors are automatically heated as needed and when the drive-ready state is switched on.
Automatic dimming feature
The exterior mirror on the driver's side is automatically dimmed. Photocells in the car's interior mirror are used to control this.
Automatic Curb Monitor, exterior mirror
Concept
If reverse gear is engaged, the mirror glass on the front passenger side is tilted downward. This improves your view of the curb and other formatting issue - low-lying obstacles when parking, for instance.
Activating
1.

slide the switch to the driver's side mirror position.
2. Engage selector lever position R.
Deactivating
Slide the switch to the passenger's side mirror position.
Interior mirror
General information
The interior mirror is dimmed automatically.
Photocells are used for control:
In the mirror glass.
On the back of the mirror.
Overview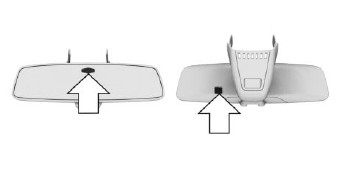 Functional requirements
Keep the photocells clean.
Do not cover the area between the interior mirror and the windshield.
READ NEXT:
Safety information Warning Steering wheel adjustments while driving can lead to unexpected steering wheel movements. Vehicle control could be lost. There is a risk of accident. Adjustng the steering
Concept The following settings can be stored and, if necessary, retrieved using the memory function: Seat position. Exterior mirror position. Steering wheel position. Height of the Head-up Displa
Concept Depending on the program, the massage function ensures relaxed muscles and better blood circulation and can avoid fatigue. General information Eight different massage programs can be selected:
SEE MORE:
Concept In the event of an accident, the system can bring the vehicle to a halt automatically without intervention by the driver in certain situations. This can reduce the risk of a further collision and the consequences thereof. At standstill After coming to a halt, the brake is released automatic
General information Up to 50 stations can be stored. Selecting a station 1. "MEDIA". 2. "Radio". 3. "Presets". 4. Select the desired station. Deleting a station 1. "MEDIA". 2. "Radio". 3. "Presets". 4. Highlight the station you want to delete. 5. Move the Controller to the right. 6. "Delete