BMW 5 Series: Electric Active Roll Stabilization (EARS)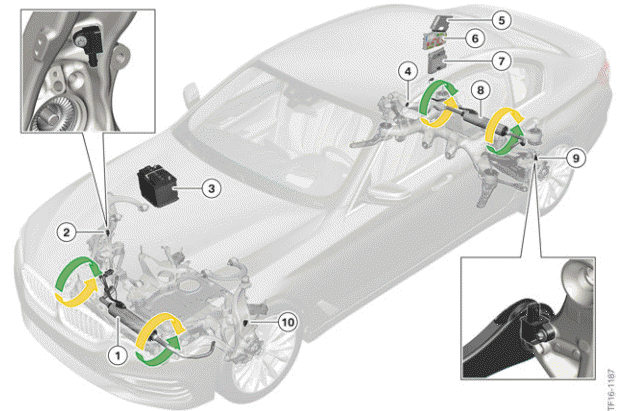 System overview of electric active stabilization in the G30
Electric active roll stabilization front (EARSV)
Front right vertical acceleration sensor
Auxiliary battery in the engine compartment
Rear right vertical acceleration sensor
Vertical Dynamics Platform (VDP)
Rear right power distribution box
Power Control Unit (PCU)
Electric active roll stabilization rear (EARSH)
Rear left vertical acceleration sensor
Front right vertical acceleration sensor
The electrical active stabilizers (EARS) had their series introduction in the G12. The stabilizers are available to the customer only as optional equipment in conjunction with further suspension control systems (see Highlights chapter). The system has been adopted in full in the G30 with the exception of the preview function.
The preview function, which was implemented on the G12 using the stereo camera, is not used on the G30. For this reason, the name of the optional equipment has been changed from "Executive Drive Pro" on the G12 to "Adaptive Drive" or " Dynamic Handling Package" on the G30.
System wiring diagram for the voltage supply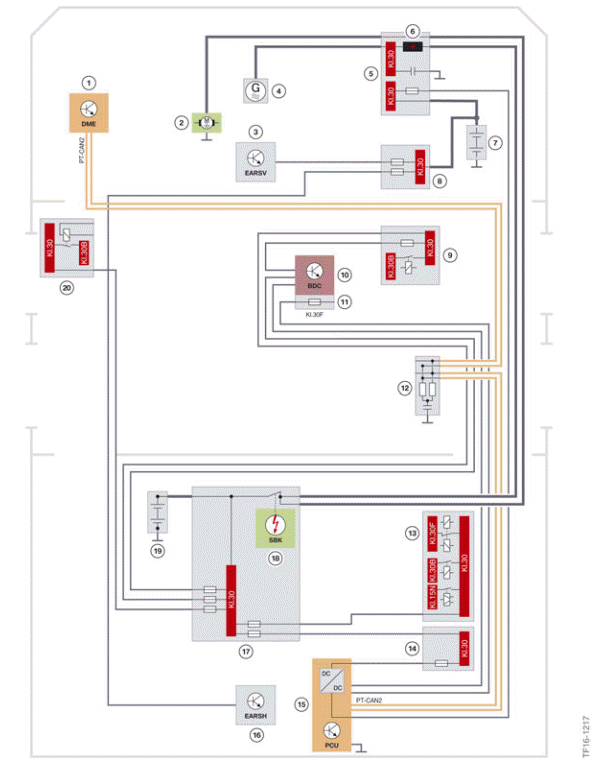 EARS system wiring diagram in the G30
Digital Motor Electronics (DME)
Starter motor
Electric active roll stabilization at the front (EARSV)
Alternator
Power distribution box, engine compartment
Jump start terminal point
Auxiliary battery in the engine compartment
Power distribution box, auxiliary battery, engine compartment
Power distribution box, front right
Body Domain Controller (BDC)
Fuse in the Body Domain Controller
CAN terminator
Power distribution box, rear
Fuse in the power distribution box
Power Control Unit (PCU)
Electric active roll stabilization at the rear (EARSH)
Battery power distribution box
Safety battery terminal
Battery
Power distribution box, front left (PHEV version only)
Current flow
The graphic below shows the control characteristics depending on the road surface or the route.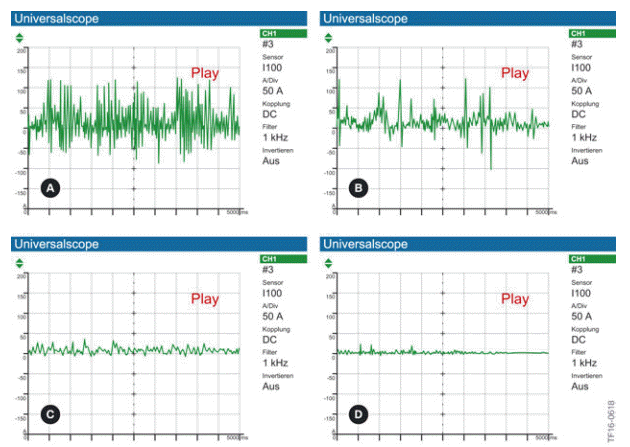 Current flow on the power supply line to the electrical active stabilizer in the G30
Rough road condition
Avoidance maneuver
Traffic circle
Smooth road condition
READ NEXT:
Versions The following exterior light versions are available for the G30: LED Adaptive headlights with cornering light Adaptive Full LED headlight (OE 552) is optional LED fog lights Lighting, fr
SEE MORE:
CarPlay can be used via iDrive and voice operation. Via voice operation: 1. Press and hold the button on the steering wheel, until the Siri Voice command response is activated on the iPhone. 2. Say the commands familiar from the iPhone. Switching CarPlay off/on To use the iPhone without CarPlay,
Electronic transmission control (EGS) Electronic transmission control (EGS) Gear selector switch (GWS) Gear selector switch (GWS) The gear selector switch (GWS) is used for selecting a drive position. The bus connection is via the PT-CAN2 and additionally via a local CAN to the electronic transm