BMW 5 Series: Lower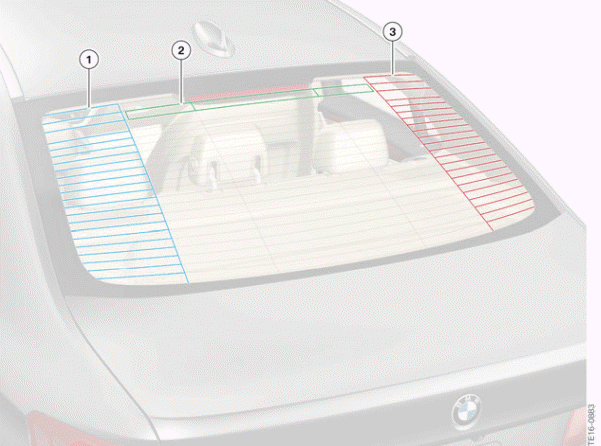 G30 Antennas - rear window
FM1
AM
FM2
Roof antenna
The TCB2 is designed as roof variant in the G30. The roof-mounted antenna is connected directly with the TCB2 via plug-in contacts.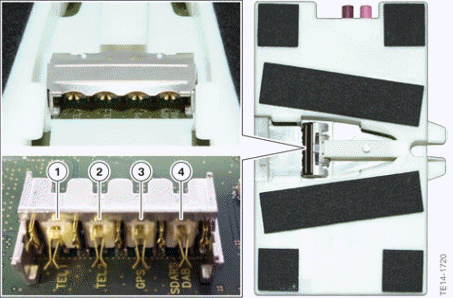 G30 connection roof-mounted antenna
TEL1 (telephone connection customer telephone and telematics connection)
TEL2 (telematics connection)
GPS
SDARS
You can find additional information about the TCB2 as roof variant in the "ST1501 G12 Complete Vehicle" Telephone and Telematics Systems section of the Technical Reference manual.
Components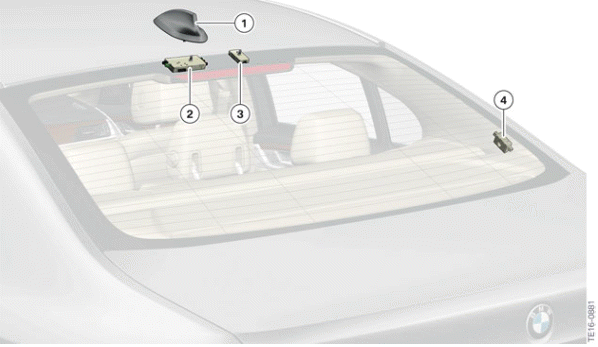 G30 components antennas
Roof antenna
Wave trap additional brake light
Antenna amplifier
Wave trap, heated rear window
READ NEXT:
The Bluetooth antenna is installed on the side in the area of the center console. The Bluetooth antenna is designed as simple cable antenna. G30 Bluetooth antenna Bluetooth antenna WiFi antenna T
Overview The rear seat entertainment in the G30 is available as optional equipment (OE 6FH). The rear seat entertainment corresponds to that of the G12, with the difference that the G30 does not in
SEE MORE:
General information The vehicle is equipped with the Antilock Brake System ABS as a standard feature. Perform an emergency stop in situations that require such. Steering is still responsive. You can still avoid any obstacles with a minimum of steering effort. Pulsation of the brake pedal and soun
Often a collision with another vehicle (at the end of a traffic jam for example) or obstacle can only be prevented by an avoidance maneuver. Since the driver's response time plays a decisive role in an avoidance maneuver just as in a braking maneuver, Evasion Aid is able to make a considerable co