BMW 5 Series: Drive Variants
Like in the predecessor, the G30 is offered with optional xDrive all-wheel drive. All models receive the 8-speed Sport automatic transmission as standard.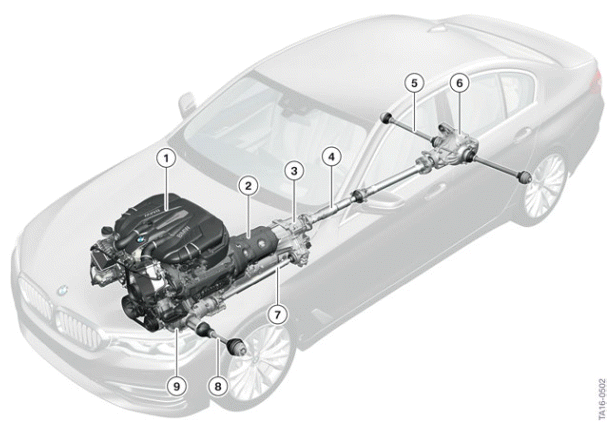 Drive overview G30
Engine
Automatic transmission
Transfer box VTG (only for xDrive)
Prop shaft
Output shaft, rear
Rear axle differential
Front drive shaft (only for xDrive)
Front output shaft (only for xDrive)
Front axle differential (only for xDrive)
Models
With the exception of the 8-cylinder gasoline engine (N63TU2), which has had an engineering upgrade, the newly-developed modular engines are used. All engines meet the ULEV II or SULEV regulations for the US.
ULEV II = Ultra-Low Emission Vehicle
SULEV = Super Ultra-Low Emission Vehicle
G30 models

READ NEXT:
The engines of the G30 are already known from the BMW 7 Series G12. The following table shows the common features and differences in terms of power and torque specifications in the various performan
Technical data BMW 530i engine B46B20O0 engine in the G30 Engine highlights B46B20O0 List of the most important special features: 1. Direct rail injection system with 200 bar pressure. 2. 4th gene
B58B30M0 engine in the G30 Engine highlights B58B30M0 List of the most important special features: 1. Direct rail injection system with 200 bar pressure. 2. Valvetronic 4th generation. 3. Heat man
SEE MORE:
To use the Parking Maneuvering Assistant function, the following basic prerequisites must be met: The doors must be closed The trunk lid must be closed The driver's seat belt must be fastened The parking brake must be released Measuring parking spaces Parking spaces are measured while driving
General information The tire characteristics and tire inflation pressure influence the following: The service life of the tires. Road safety. Driving comfort. Fuel consumption. Safety information Warning A tire with too little or no tire inflation pressure may heat up significantly and sustain