BMW 5 Series: ParkNow app
ParkNow can also be used on a smartphone; the ParkNow app must be installed for this.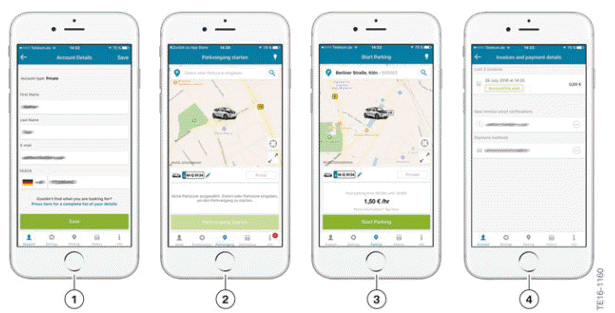 ParkNow app
Registration
Select destination or parking zone
Start parking
Payment process
Menu
The ParkNow function can be launched from a number of menus in the vehicle:
Navigation menu
ConnectedDrive menu
Navigation menu
ParkNow is started from the Navigation menu.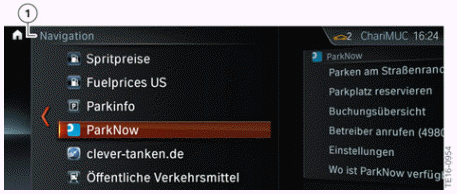 G30 ParkNow navigation
Navigation menu
ConnectedDrive menu
ParkNow can also be accessed via the ConnectedDrive menu in the vehicle.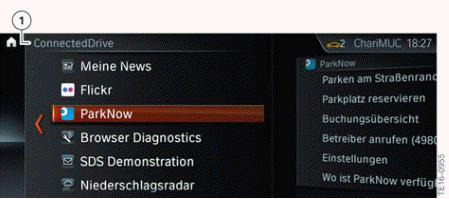 G30 ParkNow ConnectedDrive
ConnectedDrive menu
Examples
Practical examples of ParkNow are described below:
On-street parking
The vehicle is parked in a metered on-street parking space (available from 3/17). ParkNow is selected in the vehicle and parking is started. It is planned that the ParkNow app will be used to pay for the service via "smart" parking meters installed on the street. Parking is ended automatically as soon as the vehicle travels at a speed in excess of 35 km/h. The parking fees are billed by cash-less methods as mentioned previously.
See the Parkmobile web site for further information regarding the on street parking transaction.
See the ParkNow web site for more information regarding the parking service app.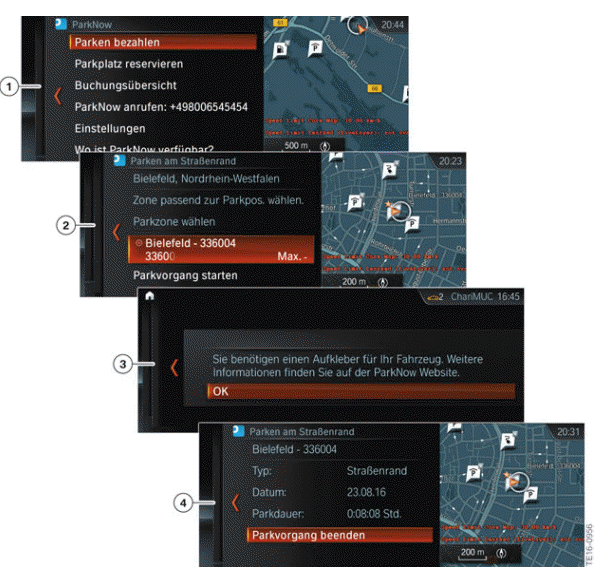 G30 ParkNow selection of metered parking space at the roadside
Pay for parking
Start parking time
Prompt to display a ParkNow badge in the vehicle (only in German market; in the US market payment is done via the App)
End parking
Parking in multi-storey parking garage or underground parking garage
If the multi-storey car park is a partner of the ParkNow program, the vehicle number plate will be captured by a camera and the barrier will open automatically as the vehicle enters. The parking time is started automatically at the same time. Partner multi-storey parking garage are identified on the navigation map with an asterisk.
Alternatively, the ParkNow customer card can be used if there is no number plate recognition facility.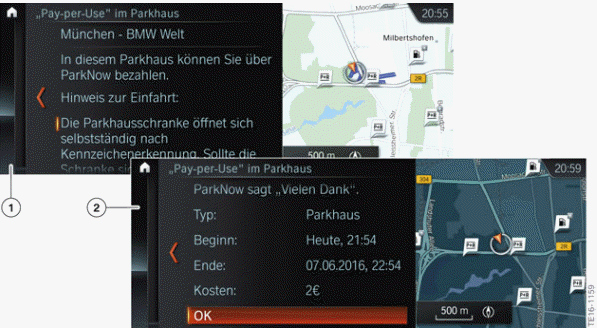 G30 ParkNow parking in a multi-storey car park
Pop-up message on entering the multi-storey car park with information concerning the multi-storey car park
End parking with information relating to parking time and cost
Reserve a parking space
In some selected partner multi-storey parking garage a parking space can be reserved in advance.
No particular parking space is assigned for a reservation, it merely means that a parking space is kept free in the multi-storey car park. Recognition and parking for a reserved parking space are identical to the procedure described above.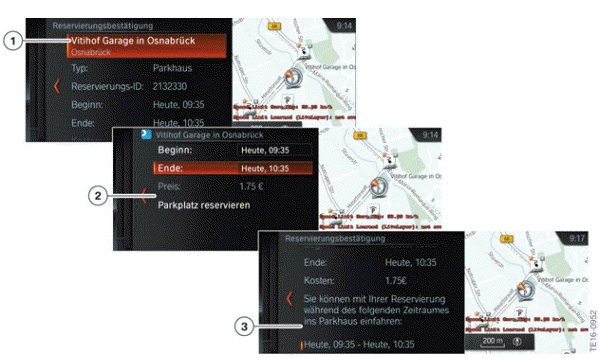 ParkNow parking space reservation
Select multi-storey car park
Information about a reservation
Reservation confirmation
READ NEXT:
Parking information is a new function in navigation. The parking information is called "On-Street Parking Information" in the vehicle menu. A probability of there being free parking spaces determine
New features in the G30 The G30 builds on the technology introduced in the 7 Series (G12). This Training manual describes the new features or changes with regard to the G12. The table below lists th
SEE MORE:
The system measures potential parking spaces when driving past at a speed below approximately 22 mph (35 km/h) even without the system having been activated. The parking spaces are measured by two additional ultrasonic sensors, which are integrated into the front wheel arch. Two additional u
CD/DVD/Blu-ray drive CD/DVD/Blu-ray ejection Headphone connection, right USB port, right HDMI/MHL connection USB port, left Headphone connection, left USB interface in the rear There are two USB interfaces in the CD/DVD/ Blu-Ray player in the rear. Properties: USB port Type C. For cha