BMW 5 Series: Body overview, Body structure
Body overview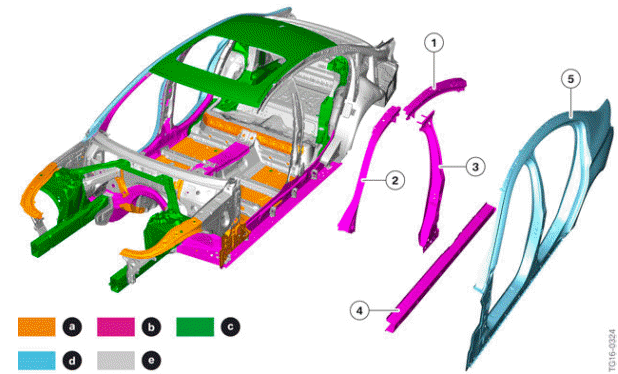 G30 Side frame structure
Multiphase steel (> 300 N/mm²)
Ultra-high-strength steel (> 900 N/mm²)
Aluminum
Deep-drawing steel (< 300 N/mm²)
Other steel grades
Inner roof frame
Roof frame reinforcement
B-pillar reinforcement
Side sill reinforcement plate
Outer side frame (deep-drawing steel)
Body structure
The lightweight body construction concept of the G30 comprises high-strength steel and Aluminum components. There is no Carbon Core used in the construction of the G30 body like in the G12. The use of die-cast Aluminum components has increased significantly. Thanks to the material mix, the materials are able to contribute their specific strengths to the vehicle in the best possible way. As a result of the strict lightweight construction philosophy, the weight of the body has been reduced by around 46 kg / 101 lbs over the predecessor F10, but crash safety has been further improved.
Steel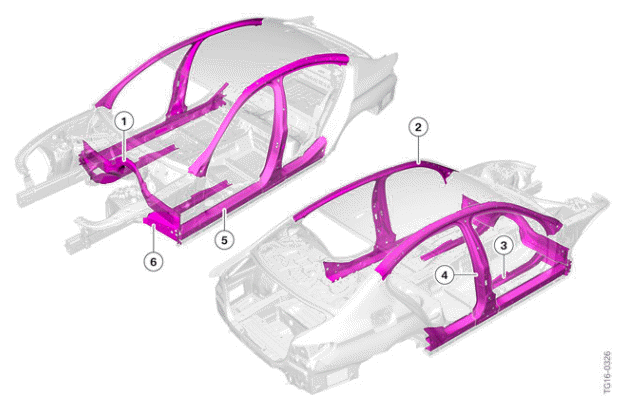 G30 Ultra-high-strength steels in the body structure
Carrier support, bulkhead
Inner side frame
Engine support extension
Reinforcement plate, B-pillar
Side sill reinforcement plate
Outer connecting plate
Aluminum
The use of Aluminum extruded profiles and complex die-cast Aluminum parts accounts for a rigid body along with low weight. All requirements relating to passive safety are also met.
The spring strut domes on the front, and for the first time also on the rear, are manufactured using the Aluminum pressure die casting process. As is already familiar from the G12, the side members at the rear are now also made as die-cast Aluminum components. This contributes to excellent weight distribution in the body structure. New Aluminum cast alloys were also developed in order to increase the crash safety of these components.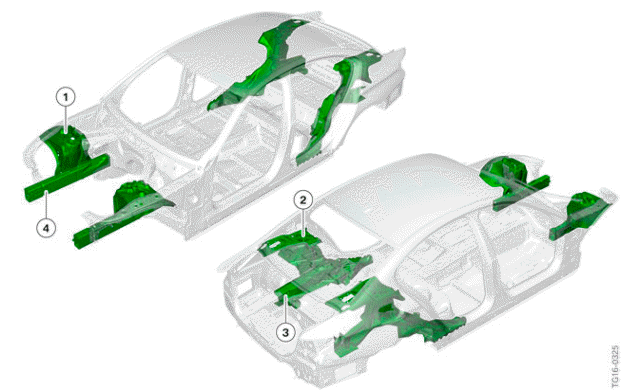 G30 Aluminum in the body structure
Front spring strut dome
Rear spring strut dome
Side member
Engine support
READ NEXT:
Some of the Aluminum-steel connections in the G30 body structure are produced using a new body joining technique: flow drill screws. These include, for example, the connection between the engine sup
Taking into account the repair stages of the BMW workshop information system, the body repair work in the Technical Qualification is divided into 3 repair levels. Each of the 3 Body Repair Levels in
SEE MORE:
The G30 also features the Optional Equipment System (SAS) control unit which is already familiar and which provides a host of Driver Assistance System functions. Possible functions: Frontal Collision Warning with City Collision Mitigation Daytime Pedestrian Protection Dynamic Brake Control Di
General information Depending on the vehicle equipment and country version, it may not be possible to receive AM stations. Radio Data System RDS RDS broadcasts additional information, such as the station name, in the FM waveband. RDS is automatically active. Selecting a station 1. "MEDIA". 2. "Rad