BMW 5 Series: Repair Level 1
Taking into account the repair stages of the BMW workshop information system, the body repair work in the Technical Qualification is divided into 3 repair levels. Each of the 3 Body Repair Levels includes certain prerequisites in terms of the qualifications of the employees and the workshop equipment.
The special characteristics of the add-on body parts and the materials used in the outer body skin are described in this chapter. However, the basic functions of the roof and the outer body skin components made of plastic are the same as on other current BMW models. For this reason, these components will not be described in detail here.
Outer body skin materials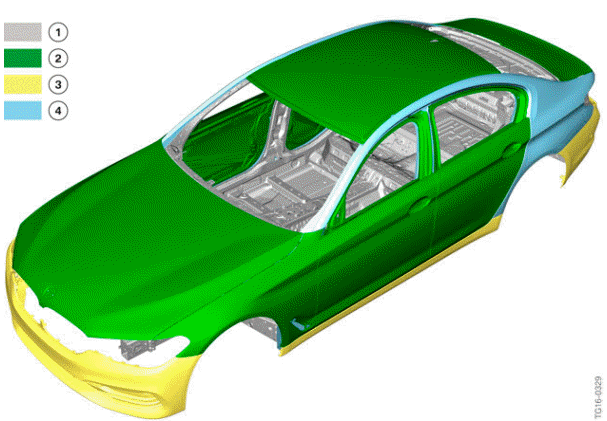 G30 Outer body skin
Other steel grades
Aluminum
Plastic
Deep-drawing steel
As was already the case with the F10, the doors, hood and front side panels are made of Aluminum.
In addition, the trunk and the roof of the G30 is also made of Aluminum, which contributes to the significant weight reduction.
The bumper panels at front and rear as well as the side sills are made of plastic as before. However, further development of this material made it possible to reduce the density and weight.
READ NEXT:
Air Breathers are also used on the front fenders of the G30. The Air Breather is an air outlet behind the front wheel, which diverts the air flowing into the rear region of the wheel well in a contr
On the G30, the rear light assembly is attached with 3 screws to the body. Due to the very small gap dimensions to the body, it is necessary to adjust the rear lights to the body. Two adjusting elem
SEE MORE:
General information LATCH: Lower Anchors and Tether for Children. Pay attention to the specifications and the operating and safety information from the child restraint system manufacturer when selecting, installing, and using LATCH child restraint fixing systems. Mounts for the lower LATCH anchors
Introduction The BMW Connected app combines all the apps previously provided by BMW into one common app. It replaces the following current apps: My BMW Remote app BMW i Remote app BMW Remote App (G12) BMW Connected Classic App (previously: BMW Connected app) The BMW Connected app is initiall