BMW 5 Series: Screw connections
Some of the Aluminum-steel connections in the G30 body structure are produced using a new body joining technique: flow drill screws. These include, for example, the connection between the engine support (Aluminum extruded profile) and the bulkhead carrier support (ultra-high-strength hot-formed steel).
Flow drill screws are driven directly into the body structure. When this happens, the specially shaped tip produces a flow hole and a thread is then cut. This joining technique is used exclusively in production.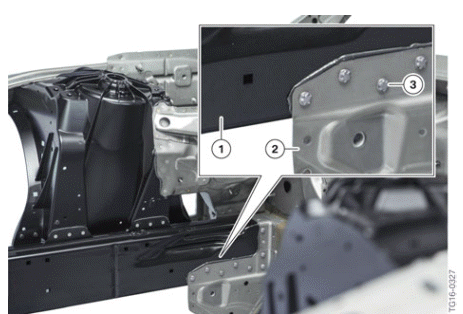 G30 Screw connection of engine support/bulkhead
Engine support
Engine support connection
Flow drill screw

Once a flow drill screw connection has been loosened, it must not be re-joined using flow drill screws.
Otherwise this will lead to a considerable reduction in strength.
In the event of a repair according to Body Repair Level 2 and 3, the flow drill screws are replaced by blind rivets.
Roof support
The G30 body structure has a hydroformed roof support made of steel. This is welded to the roof side frame in line with the B-pillar. By using a hydroformed section it has been possible to reduce the vehicle weight along with increasing the stiffness of the body. On vehicles with a slide/tilt sunroof or panorama glass roof the reinforcement is incorporated in the relevant roof frame.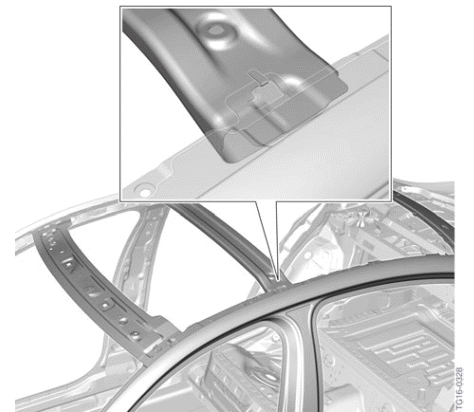 G30 Hydroformed roof bow
READ NEXT:
Taking into account the repair stages of the BMW workshop information system, the body repair work in the Technical Qualification is divided into 3 repair levels. Each of the 3 Body Repair Levels in
Air Breathers are also used on the front fenders of the G30. The Air Breather is an air outlet behind the front wheel, which diverts the air flowing into the rear region of the wheel well in a contr
SEE MORE:
Setting the date Via iDrive: 1. "My Vehicle". 2. "iDrive settings". 3. "Date and time". 4. "Date:". 5. Turn the Controller until the desired day is displayed. 6. Press the Controller. 7. Make the settings for the month and year. Setting the date format Via iDrive: 1. "My Vehicle". 2. "iDrive
Maintaining and storing the speed Press the rocker switch up or down once while the system is interrupted. When the system is switched on, the current speed is maintained and stored as the desired speed. The stored speed is displayed in the speedometer and briefly in the instrument cluster. DSC