BMW 5 Series: Seats
Front seats
As a design element, the seats are an important element of a sporty-luxurious vehicle interior. Special stitching accents are provided in the form of decorative stitches for the Dakota leather trim and for the Saddle leather trim. The following front seat variants are available for the G30:

On the multifunction seat, 5 touch-sensitive sensors are integrated in the switches for fore-and-aft seat adjustment. As a result, when the adjustment switch is touched a pop-up is opened in the Central Information Display (CID), which shows the function and adjustment range of the switch that has been touched. Further information on this topic can be found in the Technical Reference Material "ST1501 G12 Complete Vehicle".
Massage functions
A massage programme is offered for the driver and front passenger in conjunction with the multifunction seat. Eight different massage functions in the backrest and seat cushion activate or relax the muscles, thereby helping to relax the back muscles and relieve the strain on the intervertebral discs. Here, the occupants can choose between 3 different intensity levels.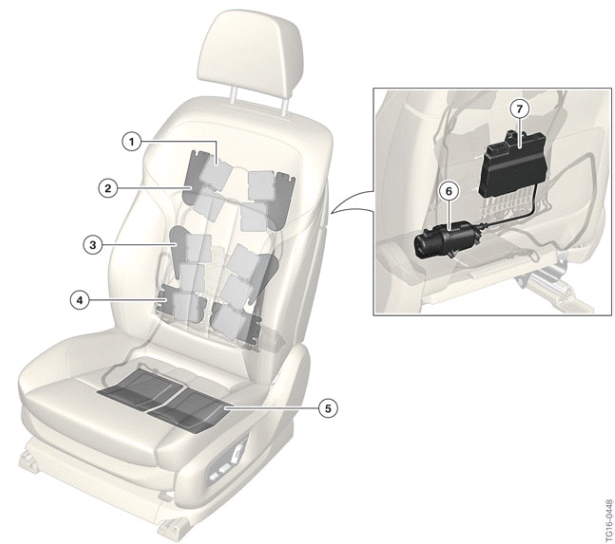 G30 Multifunction seat
Air cushion for shoulders (massage)
Air cushion on inner backrest (massage)
Air cushion for lumbar region (massage)
Air cushion for lumbar support
Air cushion for seat surface (massage)
Seat pneumatics module pump
Seat pneumatics module (control unit and valve block)
The massage functions are controlled by the respective seat pneumatics modules.

When working on the pneumatic components, it must be ensured that the lines are routed exactly, otherwise there is a risk of the lines being kinked.
Mobilization
With the mobilization program, it is possible to choose between the pelvis, upper body or full body.
During the massage, the strain on the spine is relieved by targeted body movements.
Relaxation
Three different regions of the body can be selected for the relaxation program. Targeted massage helps to relax the back, shoulder or lumbar muscles.
Vitalization
The vitalization program is made up of both mobilization and relaxation. The occupant can choose between the body areas of upper body and full body. The combination of movement and massage ensures optimum relaxation and recuperation particularly on long journeys.
READ NEXT:
For the first time on a BMW vehicle it is now possible to pre-set the seat heating. It is possible to select between the driver and front passenger and to choose the heating stage. If the ambient te
Luggage compartment volume The luggage compartment capacity of the new BMW 5 Series has been increased by 10 liters in comparison to its predecessor, the F10, to 530 liters / 14 ft³. By adding a co
SEE MORE:
Concept In the event of a flat tire, the emergency wheel can be used in place of the wheel with the defective tire. The emergency wheel is only intended for temporary use until the defective tire/wheel has been replaced. General information Mount one emergency wheel only. Also check the tire inflat
Button in the vehicle Intelligent Safety Radar sensors The radar sensors are located in the bumpers. Front bumper. Rear bumper. Always keep the bumper in the area of the radar sensors clean and unobstructed. Camera The camera is installed near the interior mirror. Keep the windshield in front