BMW 5 Series: Seat belt buckle switch
The seat belt buckle switches are located in the seat belt buckles of the driver and front passenger seat. European version vehicles are additionally equipped with seat belt buckle switches on the rear seat bench.
The seat belt buckle switch detects whether the seat belt buckle tongue is in the seat belt buckle.
The supply of the sensors and the evaluation occurs through the ACSM. As of the driving condition RESIDING, the seat belt buckle switch is continuously monitored and used for the visual and acoustic seat belt warning and also to determine which restraint systems are to be triggered. The seat belt warning is active as of the DRIVING driving condition.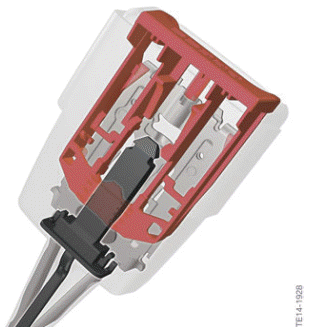 G30 Seat belt buckle switch
Emergency call button
The emergency call button is located in the roof function center.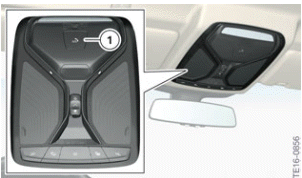 G30 Roof function center (FZD) with emergency call button
Emergency call button
Seat-position sensors
In accordance with the US legal requirement (FMVSS208), a height identification for the person in the driver and front passenger seat must be effected. This height identification is effected via the adjustment travel of the forward/back seat adjustment. In US-version vehicles, the exact position is identified using the seat-position sensors for the driver and front passenger seats.
The job of the seat-position detector is to distinguish between a relatively small person and a person of normal height within the lengthways adjustment range of the seat. This detection is another technical feature aimed at increasing the safety of the occupants. The deployment of the 2 airbag stages is then adjusted to the driver's/front passenger's seat position.
The seat-position detector takes the form of a 2-wire hall effect sensor and is supplied with voltage via the ACSM. The current level of the seat-position sensor changes depending on the seat position.
READ NEXT:
Overview The following actuators are installed in the G30: Two-stage driver's airbag Two-stage front passenger airbag Knee airbag on front left and right Head airbag on left and right Side airba
The purpose of the front passenger airbag is to reduce the risk of accident to the front passenger in the event of a front-end crash. The front passenger airbag is located in the dashboard. When the
In the event of a front-end or rear-end crash or rollover, the automatic reel blocks the extension of the seat belt in order to restrain the occupants. The belt force limiter limits the load exerted
SEE MORE:
The following graphic shows the positions of the rotary valve as the coolant temperature increases. Circuit diagram of heat management module in B58TU engine 0 % - Rotary valve closed 100% - Rotary valve open Cold start Warm-up phase Operating temperature Transition from normal operatio
Light in the exterior mirror Prewarning The dimmed light in the exterior mirror indicates when there are vehicles in the blind spot or approaching from behind. Acute warning If the turn signal is switched on while a vehicle is in the critical zone, the steering wheel vibrates briefly and the light