BMW 5 Series: Schedule trips
Destinations can be scheduled via the BMW Connected app. Two options are available for this:
Schedule trips in the BMW Connected app
Trips can be scheduled in the BMW Connected app. An arrival time can be specified for the destinations. The BMW Connected app calculates the optimum departure time from current traffic data; you will receive a notification message 10 minutes before this time.

BMW Connected app setting the departure time
Share destinations via other apps
Destinations can also be searched for in other apps such as Apple Maps, Google Maps or Yelp and shared with BMW Connected.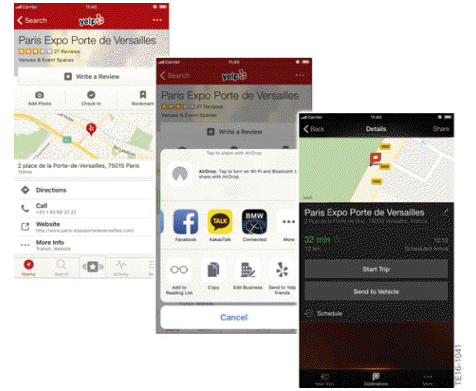 BMW Connected app selecting a destination on Apple maps
The current traffic volume for the scheduled destination is displayed in the BMW Connected app by color:
Green: no traffic on the scheduled route
Yellow: traffic on the scheduled route
Red: heavy traffic volumes on the scheduled route
Sharing must first be enabled for this function.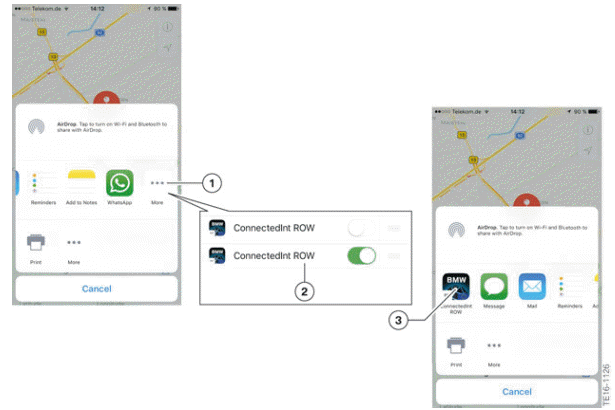 BMW Connected enable sharing
Share menu in the smartphone, here in Apple maps by way of example; add BMW Connected once by touching More
Activating the BMW Connected app
Sharing via the BMW Connected app is possible
Transferring the destination to the vehicle
A destination planned on the smartphone can be sent to the vehicle's navigation system. Two options are available for this:
Bluetooth
BMW Connected Send to Car
The destination can be sent to the navigation system if the smartphone is coupled via Bluetooth in the vehicle.
The destination can also be sent to the vehicle via ConnectedDrive online. The route guidance will then be suggested in the vehicle where it can be accepted. In this example we illustrate this on the user interface of a G12.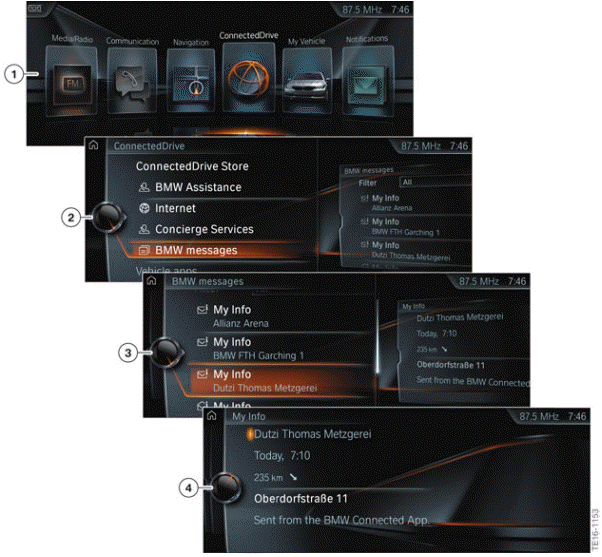 BMW Connected accept sent trip
Main menu
BMW messages
Select destination
Start route guidance
Third party apps
The BMW Apps menu lists all third-party apps that are currently supported by BMW. These apps can be launched from the individual menus as before, or from the ConnectedDrive menu if they are installed on the smartphone.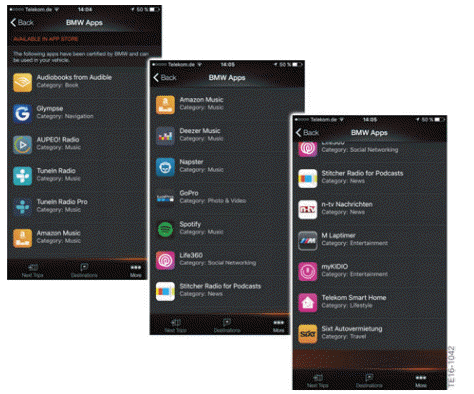 BMW Connected app third-party apps
Remote 3D View
Remote 3D View is provided for the first time on the G30. This function allows the customer to view the area around his parked vehicle on his smartphone.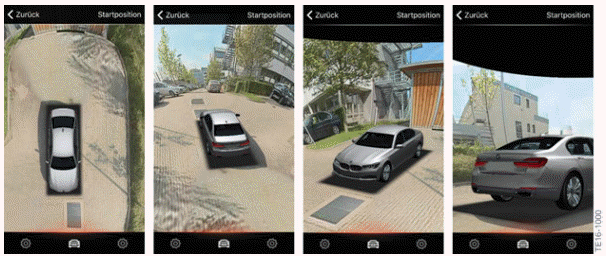 G30 Remote View 3D display on smartphone
Service
Below we list some information about BMW Remote 3D View which affects the service:
A maximum of three recordings in two hours is permitted. (The user will receive a message in the event of a further recording.)
The Remote 3D View function is an element of standard equipment "Remote Services" (OE 6AP) and is valid for four years. Once this period has expired, the function can be extended via the ConnectedDrive Store for a fee.
The vehicle shown in the smartphone is always shown in silver paintwork.
Further information
Further information on BMW Remote 3D View can be found in the ST1604 G30 Driver Assistance Systems Training Reference manual.
READ NEXT:
A base plate is no longer provided for any telephone system in the G30. For this reason, the telephone is connected to the head unit either wireless or through a USB port. A check mark must be set f
Introduction Apple CarPlay offers the capability of easily and conveniently reproducing selected content from the iPhone in the vehicle. Displaying the Apple icons on the Central Information Display
SEE MORE:
Concept The system may prevent some accidents with pedestrians. When driving at city speeds, the system will issue a warning if there is imminent risk of a collision with pedestrians, and support with a braking function. General information The system is active at speeds of approx. 3 mph/5 km/h up t
Active Cruise Control (ACC) Long Range Radar (LRR) sensor Active Cruise Control ACC Long Range Radar (LRR) sensor The control unit for active cruise control for ACC Stop & Go contains a radar-based sensor for sensing the area in front of the vehicle. Both the near and far ranges are monitored