BMW 5 Series: Apple CarPlay Preparation
Introduction
Apple CarPlay offers the capability of easily and conveniently reproducing selected content from the iPhone in the vehicle. Displaying the Apple icons on the Central Information Display (CID) permits intuitive operation and control of the functions.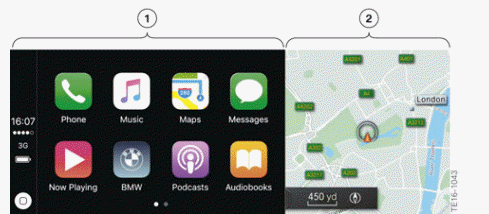 G30 Apple CarPlay in the Central Information Display (CID)
Main screen with Apple CarPlay
Assistance window, here, for example, shown with the BMW navigation map
Apple CarPlay is displayed only in the main screen. The Apple CarPlay logo is displayed if there is no function in the assistance window. Apple CarPlay is activated by pressing and holding the menu button on the controller.
Prerequisites
The vehicle and the iPhone must satisfy certain prerequisites before Apple CarPlay can be used.
iPhone
The Apple CarPlay function runs on the iPhone 5 and more recent models.
The iPhone operating system must be at least iOS 9.3.3.
Other Apple devices (iPad or iPod) cannot be connected to the vehicle via Apple CarPlay.
Vehicle
The Apple CarPlay preparation optional equipment (OE 6CP) is added to the BMW Online and BMW Apps standard equipment (OE 6AK) and the standard equipment Professional navigation system (OE 609). Selected data attributes are swapped between the smartphone and the vehicle when Apple CarPlay is used.
Further information about Apple CarPlay may be found in the ST1610 Infotainment 2016 Product Information.
READ NEXT:
The G30 has two different hands-free mode and charging variants for telephones: Convenient telephone with extended smartphone connection (OE 6NS) (standard equipment) Telephone with wireless cha
Telephone with wireless charging (OE 6NW) has the same functions as the convenient telephone with extended smartphone connection. Additionally, the smartphone can be charged wirelessly and has a con
SEE MORE:
Speed Limit Info Concept Speed Limit Info shows the current valid maximum speed in the instrument cluster. General information The camera in the area of the interior mirror detects traffic signs at the edge of the road as well as variable overhead sign posts. Traffic signs with extra symbols are co
Two airbag front sensors are installed in the front area of the engine supports. The measured values are forwarded to the Advanced Crash Safety Module (ACSM) where they are evaluated. The airbag front sensors on the left and right assist with the identification of a head-on crash. The sensors d