BMW 5 Series: Front fenders
Air Breathers are also used on the front fenders of the G30. The Air Breather is an air outlet behind the front wheel, which diverts the air flowing into the rear region of the wheel well in a controlled manner towards the fender in order to reduce turbulences in the wheel well area. As a result, the drag and fuel consumption of the vehicle is reduced, which in turn means a reduction in carbon dioxide emissions.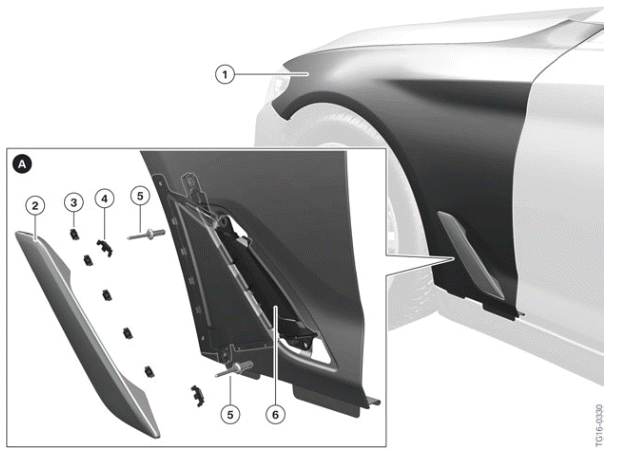 G30 Front side panel
Air Breather mounting
Front left fender
Air Breather trim
Mounting clips
Trim mounting clips
Expanding rivet
Air duct
Trunk
A trunk made entirely of Aluminum has been used for the first time on the G30. As a result, a weight reduction of 4.2 kg / 9.5 lbs was achieved over the F10. The multi-part layout of the trunk is achieved with the aid of state-of-the-art laser welding techniques.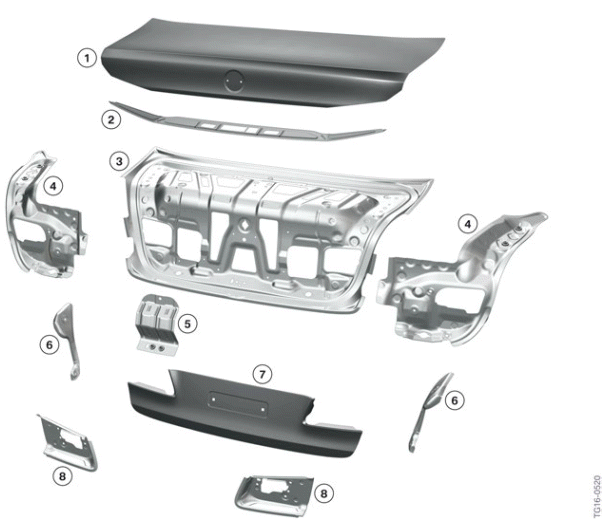 G30 Trunk
Trunk outer skin (Aluminum)
End plate
Trunk inner panel
Reinforcement plate with hinge mounting
Reinforcement plate with striker mounting
Side end plate
Outer skin panel with licence plate carrier
Rear light mounting panels
READ NEXT:
On the G30, the rear light assembly is attached with 3 screws to the body. Due to the very small gap dimensions to the body, it is necessary to adjust the rear lights to the body. Two adjusting elem
The vehicle interior shows significant further developments in comparison to the F10. The all-round visibility has been improved. This is further supported by the very flat design of the roof functi
SEE MORE:
Concept The Points of Interest categories can be displayed on the map as symbols. Selecting categories 1. Press the button on the Controller. 2. Move the Controller to the right. 3. "Settings". 4. "Map settings". 5. "Points of interest on the map". 6. Select the desired setting. The display
Safety information Warning With the mounting of snow chains on unsuitable tires, the snow chains can come into contact with vehicle parts. There may be a risk of accident or risk of damage to property. Only mount snow chains on tires that are designated by their manufacturer as suitable for the use