BMW 5 Series: Overview
In February 2017, the 7th generation of the BMW 5 Series G30 will be launched. The G30 contains a wealth of new technologies and design elements that have been further developed and refined. The closed radiator grill and the precise contours of the hood lend the front of the new BMW 5 Series a sporty character. The elegant lines of the side view are emphasized by the distinctive bead and the accentuated Hofmeister kink.
In terms of technology, the new BMW 5 Series is based on the G12. The topics listed below are described in the G12 Technical Reference Material "ST1501 G12 Complete Vehicle".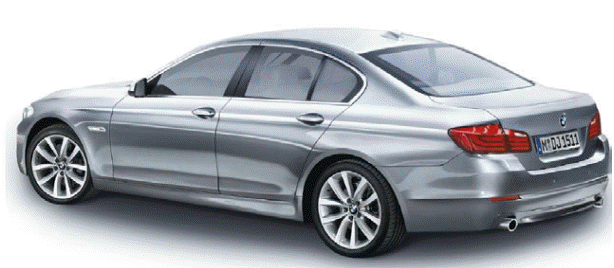 BMW G30
History


BMW 5 Series models - history

Dimensions and silhouette comparison
Dimensions G30


BMW G30 External dimensions


Comparison F10/G30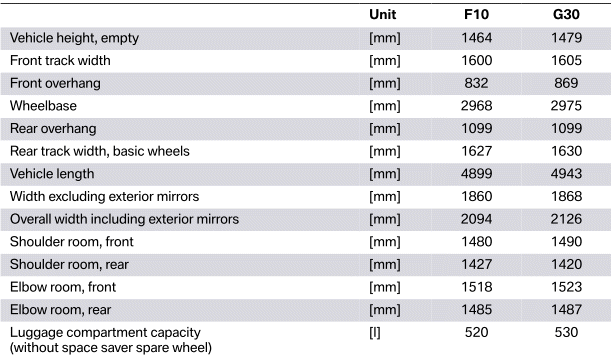 Silhouette comparison


Silhouette comparison of G30/F10
Models
The G30 models will be available in 2017 with the following models.

* The BMW M550i xDrive will follow a few months after the launch of the 530i / 530ix Drive and 540i / 540i xDrive.
READ NEXT:
Exterior G30 Exterior highlights Air flaps in the radiator grill Air Breather Headlights extend to the radiator grill Adjustable housing for rear lights Underbody The almost fully closed vehicl
Body overview G30 Side frame structure Multiphase steel (> 300 N/mm²) Ultra-high-strength steel (> 900 N/mm²) Aluminum Deep-drawing steel (< 300 N/mm²) Other ste
SEE MORE:
General information Pay attention to the specifications and the operating and safety information of the child restraint system manufacturer when selecting, installing, and using child restraint systems. Safety information Warning The protective effect of child restraint systems and their fastening s
Automatic climate control Temperature. Climate control operation. Maximum cooling. AUTO program. Recirculated-air mode. Air flow, manual. Air distribution, manual. SYNC program. Defrost and defog window. Rear window defroster. Active seat ventilation. Seat heating. Opening the Climate men