BMW 5 Series: Rear CD/DVD/Blu-ray player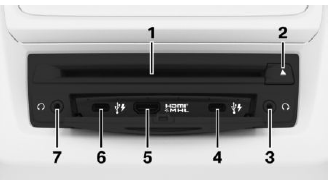 CD/DVD/Blu-ray drive
CD/DVD/Blu-ray ejection
Headphone connection, right
USB port, right
HDMI/MHL connection
USB port, left
Headphone connection, left
USB interface in the rear
There are two USB interfaces in the CD/DVD/ Blu-Ray player in the rear.
Properties:
USB port Type C.
For charging mobile devices and for data transfer.
Charge current: max. 3 A per connection.
For more information about the USB interface, see Owner's Manual for the vehicle.
READ NEXT:
General information As an alternative to the touch screen, rear entertainment can also be operated with BMW Touch Command. For further information, see BMW Touch Command in the Owner's Manual for the
Corded headphones Headphones and compatible headsets can be connected using a jack plug 1/8"/3.5 mm on the rear CD/DVD/Blu-ray player. Cordless headphones General information Suitable wireless headpho
General information A selected entertainment source can be played back in the rear via: Individual Entertainment. Theater mode. Individual Entertainment Regardless of the active entertainment so
SEE MORE:
The camera systems provide support for parking, maneuvering and for complex exits and intersections. The range of camera systems offered has changed completely with the G30. With the exception of the rear view camera, the systems are no longer available as individual items of optional equipment.
Concept The vehicle can be remotely parked and driven out in reverse in the case of suitable forward-parking spaces, for instance a garage. The driver is not in the vehicle, but controls the parking procedure responsibly from the outside using the BMW display key. Stop the vehicles manually in t