BMW 5 Series: Operation via touchscreen
General information
Depending on the equipment version, the Control Display is equipped with a touchscreen.
Touch the screen with your fingers. Do not use any objects.
Opening the main menu

Tap on the symbol.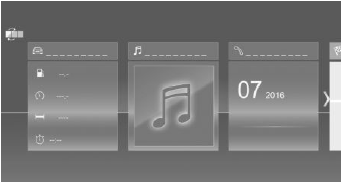 The main menu is displayed.
All iDrive functions can be called up via the main menu.
Adjusting the main menu
1.

Tap on the symbol.
All menu items of the main menu are displayed.
2. Drag the menu item to the desired position on the right or left.
Selecting menu items
Tap the desired menu item.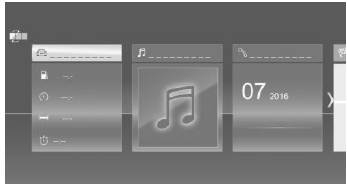 Dynamic contents
You can display dynamic contents within the menu items. The contents of the menu items update automatically, e.g., the active destination guidance in the navigation. To access the dynamic content directly, tap on the lower section of the menu item.
Via iDrive:
1. "My Vehicle".
2. "Contents of main menu".
Changing between displays
After a menu item is selected, a new display opens.
An arrow indicates that additional displays can be opened.
Swipe to the left.
Tap arrow.
The new display opens.
Changing settings
Settings such as brightness can be changed via the touchscreen.
Via iDrive:
1. "My Vehicle".
2. "iDrive settings".
3. "Displays".
4. "Control display".
5. "Brightness at night".
6. To perform the desired setting:
Slide in the selected field to the right or left, until the desired setting is displayed.
, Tap on the symbol.
Entering letters and numbers
Input
1.

Tap the symbol on the touchscreen.
A keyboard appears in the Control Display.
2. Enter letters and numbers.
Deleting

Tapping the symbol: deletes the letter or number.

Tapping and holding the symbol all letters: deletes all letters or numbers.
Operating navigation map
The navigation map can be moved using the touchscreen.

READ NEXT:
General information Some iDrive functions can be operated using the touchpad on the Controller. Selecting functions Via iDrive: 1. "My Vehicle". 2. "iDrive settings". 3. "Touchpad". 4. Select the d
Concept Several iDrive functions can be operated by hand motion only using BMW Gesture Control. Overview The gestures that are performed underneath the interior mirror are captured by a camera in the
Concept Most functions displayed on the Control Display can be operated by voice commands via the voice activation system. The system supports you with announcements during input. General information
SEE MORE:
Eight different massage functions in the backrest and seat cushion are available to activate or relax muscles. This allows the back muscles to be relaxed and the strain on the spinal discs to be relieved. The 8 programs are divided into 3 categories: Mobilization Relaxation Vitalization In t
B468/B58 Engine The B46/B58 engines have two separate coolant circuits. The coolant in the low-temperature coolant circuit to cool the charge air. The coolant in the high-temperature coolant circuit to cool the engine. The two coolant circuits each have their own expansion tank. Overview of the