BMW 5 Series: Touchpad
General information
Some iDrive functions can be operated using the touchpad on the Controller.
Selecting functions
Via iDrive:
1. "My Vehicle".
2. "iDrive settings".
3. "Touchpad".
4. Select the desired setting:
"Speller": enter letters and numbers.
"Map": use the map.
"Search fields": to write letters without selecting the list field.
"Audio feedback": pronounces entered letters and numbers.
Entering letters and numbers
Entering letters requires some practice at the beginning.
When entering, pay attention to the following:
The system distinguishes between upper and lower-case letters and numbers. To make entries, you may need to change between upper and lower-case letters, numbers and characters.
Enter characters as they are displayed on the Control Display.
Always enter associated characters, such as accents or periods so that the letter can be clearly recognized. The set language determines what input is possible. Where necessary, enter special characters via the Controller.
Entering special characters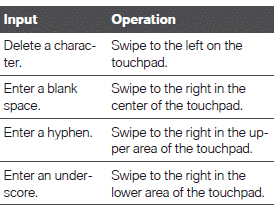 Using the map
The map in the navigation system can be moved via the touchpad.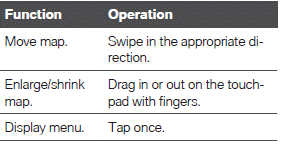 Programmable memory buttons
General information
The iDrive functions can be stored on the programmable memory buttons and called up directly, for instance radio stations, navigation destinations, phone numbers and menu entries or pages in the Integrated Owner's Manual.
Settings are stored for the driver profile currently used.
Storing a function
1. Select function via iDrive.
2.

Press and hold the desired button until a signal sounds.
Executing a function

Press the button.
The function will work immediately. This means, for instance that the number is dialed when a phone number is selected.
Displaying the key assignment
Touch buttons with finger. Do not wear gloves or use objects.
The button assignment is displayed at the top edge of screen.
Deleting the button assignments
1. Press and hold buttons 1 and

simultaneously for approx. 5 seconds.
2. "OK".
READ NEXT:
Concept Several iDrive functions can be operated by hand motion only using BMW Gesture Control. Overview The gestures that are performed underneath the interior mirror are captured by a camera in the
Concept Most functions displayed on the Control Display can be operated by voice commands via the voice activation system. The system supports you with announcements during input. General information
Activating the voice activation system 1. Press the button on the steering wheel. 2. Wait for the signal. 3. Say the command. The symbol on the Control Display indicates that the voice activatio
SEE MORE:
Introduction The G30 contains a new user interface. It is referred to as the ID6 (BMW iDrive of the 6th generation). Marketing refers to the user interface of the G30 as the "New Interface Design". The user interface of the G12 is referred to as the ID5. Although they have the same head unit (HU
General information All washer nozzles are supplied from one reservoir. Use a mixture of tap water and windshield washer concentrate. If desired, a windshield washer concentrate containing antifreeze can be used. Recommended minimum fill quantity: 0.2 US gal/1 liter. Safety information Warning Som