BMW 5 Series: Operation
Cross Traffic Alert can be switched on and off via the iDrive menu by making the following selection via the controller:
"My Vehicle"
"Vehicle settings"
"Parking"
"Cross traffic alert"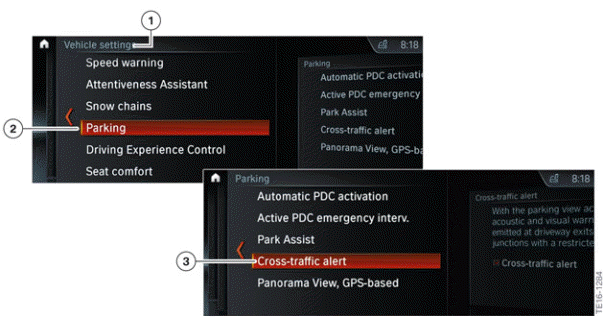 G30 Cross Traffic Alert activation on the CID
"Vehicle settings"
"Parking"
"Cross traffic alert" (switching the Cross Traffic Alert on and off)
If the Cross Traffic Alert has been activated in the iDrive menu, the function is switched on automatically as soon as the Park Distance Control or Panorama View is active.
The Cross Traffic Alert is deactivated automatically in the following situations:
If the driver's vehicle is travelling at a speed higher than walking speed (threshold value approximately 4 mph (7 km/h) ).
If the Traffic Jam Assistant is active.
If the driver is currently parking using the Parking Maneuvering Assistant.
Limits of the system
The function may be restricted in the following situations:
If there are other objects in the field of view of the sensors that are concealing the cross traffic.
Heavy fog, rain or snow.
If the bumper is dirty or iced over.
If stickers have been attached near the radar sensors on the bumper.
If the speed of the approaching vehicle is very high.
If crossing objects are moving very slowly.
On sharp bends.
If a trailer socket is being used, for example to operate a trailer or bicycle carrier, the Cross Traffic Alert is not available for the area behind the vehicle.
READ NEXT:
The Parking Maneuvering Assistant (PMA) supports the driver in many ways. The assistant measures the size of a gap between cars and decides, based on the result, whether the gap is large enough to a
The Parking Maneuvering Assistant function facilitates maneuvering into parking spaces that are parallel (parallel parking) and perpendicular (bay parking) to the roadway. Curbside parking G30 Princ
The system wiring diagram on the next page shows an overview of the system components used when parking and maneuvering the vehicle. Depending on the vehicle equipment, partial scopes may also be in
SEE MORE:
The following figures show the two cylinder head variants with and without the cylinder head-integrated exhaust manifold. Cylinder head of B58TU engine Cylinder head with integrated exhaust manifold ZIAK¹ Cylinder head without integrated exhaust manifold nZIAK² ZIAK¹ = cylinder head-integra
Refueling Fuel cap 1. To open the fuel filler flap, press on the rear edge, arrow. The fuel filler flap opens. 2. Turn the fuel cap counterclockwise. 3. Place the fuel cap in the bracket attached to the fuel filler flap. Gasoline For the best fuel efficiency, the gasoline should be sulfur-free or