BMW 5 Series: Massage
Eight different massage functions in the backrest and seat cushion are available to activate or relax muscles. This allows the back muscles to be relaxed and the strain on the spinal discs to be relieved.
The 8 programs are divided into 3 categories:
Mobilization
Relaxation
Vitalization
In the case of mobilization, the strain on the spine is relieved by targeted body movements.
In the relaxation program, the muscles are relaxed by massage.
The vitalization program is made up of both mobilization and relaxation. The combination of movement and massage ensures relaxation and recuperation, particularly on long drives.
Seat massage, both front seats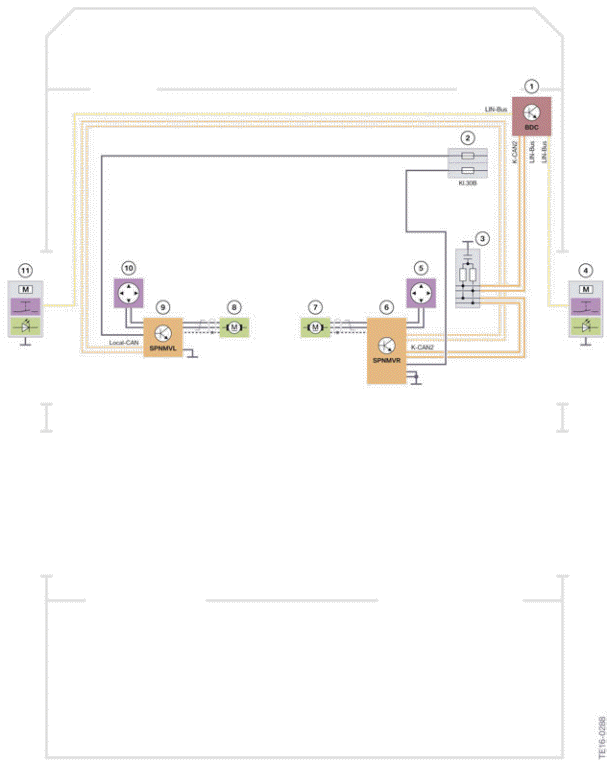 Seat massage, both front seats
Body Domain Controller (BDC)
Fuse for front right power distribution box
CAN terminator
Switch block, front passenger door
Switch, lumbar support, front passenger seat
Seat pneumatics module front right
Seat pneumatics module pump, front passenger seat
Seat pneumatics module pump, driver's seat
Seat pneumatics module front left
Switch, lumbar support, driver's seat
Switch block, driver's door
READ NEXT:
System wiring diagram Horns Horn, left Horn, right Relay in the Body Domain Controller Body Domain Controller (BDC) Steering column switch cluster (SZL) Signal path of horn: When the horn is
The most versatile range of Driver Assistance Systems ever for a BMW model was launched with the introduction of the G12. Numerous innovative systems have been introduced and have opened the way for
SEE MORE:
Button in the vehicle Intelligent Safety Radar sensors The radar sensors are located in the bumpers. Front bumper. Rear bumper. Always keep the bumper in the area of the radar sensors clean and unobstructed. Camera The camera is installed near the interior mirror. Keep the windshield in front
Normal tires 1. Identify the damaged tire. Check the tire inflation pressure in all four tires, for instance using the tire pressure gage of a flat tire kit. For tires with special approval: if the tire inflation pressure in all four tires is correct, the TPM may not have been reset. In this case,