BMW 5 Series: Lateral and longitudinal acceleration sensor, B-pillar
The lateral and longitudinal acceleration sensors assist with the identification of head-on crashes, side-on crashes and rear-end crashes.
The airbag sensor consists of a longitudinal acceleration sensor and a lateral acceleration sensor.
The acceleration sensors measure the positive and negative acceleration in the X and Y direction. The result from the X and Y signals is decisive in identifying the direction of the crash. The airbag sensors on the left and right are of identical design and are allocated by way of mechanical encoding during installation.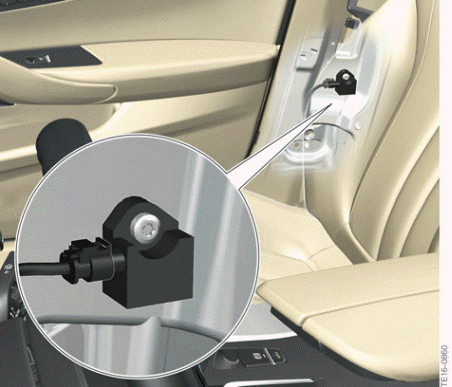 G30 Lateral and longitudinal acceleration sensor
Door airbag sensor (pressure)
In the G30, pressure sensors are installed in the driver's door and front passenger door. The airbag sensor in the doors are no longer secured with a screw as was previously the case. The airbag sensor are screwed into the bracket. The electrical attachment elements resp. the plug connections can only be connected after installation of the respective sensors.
Side crashes are identified with the assistance of the airbag sensors. In addition to the lateral acceleration values that are present, the pressure in the door cavity also increases in the event of a side-on crash.
The airbag sensors in the doors are used to verify the plausibility of the acceleration signals from the B-pillar airbag sensors and the Advanced Crash Safety Module (ACSM) when a side-on crash is detected. The airbag sensors are situated in the inner panel of the doors and measure the pressure increase in the event of a side-on collision. In the event of a side-on collision at the door the outer skin is pushed inwards. The door interior is reduced in size and the inner pressure increases. This pressure change is measured by the airbag sensors. The airbag sensor also includes electronics, in addition to the pressure sensor, that digitise the pressure readings and transmit them cyclically to the Advanced Crash Safety Module (ACSM). The data transfer is effected analogue to the airbag sensors in the B- pillars. The pressure readings are evaluated in the Advanced Crash Safety Module (ACSM).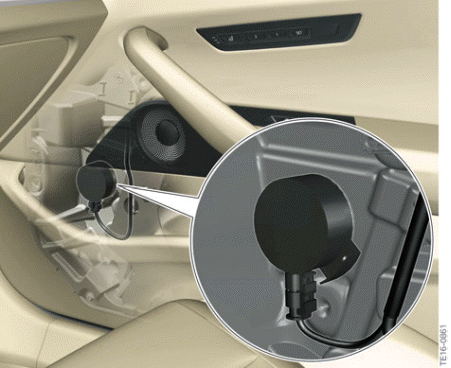 G30 Door airbag sensor (pressure)
READ NEXT:
Two airbag front sensors are installed in the front area of the engine supports. The measured values are forwarded to the Advanced Crash Safety Module (ACSM) where they are evaluated. The airbag fr
The seat belt buckle switches are located in the seat belt buckles of the driver and front passenger seat. European version vehicles are additionally equipped with seat belt buckle switches on the r
Overview The following actuators are installed in the G30: Two-stage driver's airbag Two-stage front passenger airbag Knee airbag on front left and right Head airbag on left and right Side airba
SEE MORE:
Concept CarPlay allows certain functions of a compatible Apple iPhone to be used via Siri voice operation and iDrive. General information Depending on the country-specific version, Car‐ Play may not be available. Contact a dealer's service center or another qualified service center or repair shop
The Bluetooth antenna is installed on the side in the area of the center console. The Bluetooth antenna is designed as simple cable antenna. G30 Bluetooth antenna Bluetooth antenna WiFi antenna The antenna for the vehicle WiFi is installed in the area of the left side sill. The WiFi antenna is