BMW 5 Series: Functions
All the functions are already familiar from the G12.
Features of the Headunit High 2
The table below provides an overview of the functions of the Professional Navigation System (OE 609):
Route magnet

The current route guidance can be modified if navigation is active.
Quick search

The quick search can be used to find special destinations or addresses by input.
Assistance window

Further information can be displayed in the assistance window of the split screen display.
Roadbook

The routing, including junction and additional information is displayed in the assistance window.
3D view

The buildings in selected cities are shown in a 3D view.
Auto zoom

In active route guidance, the map is automatically zoomed as a junction is approached.
RTTI

The current traffic flow is shown in different colors.
Weather in map

The current weather is displayed on the map.
Satellite view

Areas to avoid

Detailed street view

3D exit

Online routes

Learning navigation (online)

BMW Routes including importing and saving routes

Aerial view

Parking information

Route guidance
If route guidance has been interrupted, the message asking whether the route guidance should be continued is only displayed under the following conditions:
The interruption lasted longer than 15 minutes.
The current vehicle location is more than 300 m from the destination.
Turn-off recommendation
The turn-off and lane recommendations are not only displayed in the assistance window. The turn- off information and lane recommendations are also shown in the navigation map if autozoom with information is active.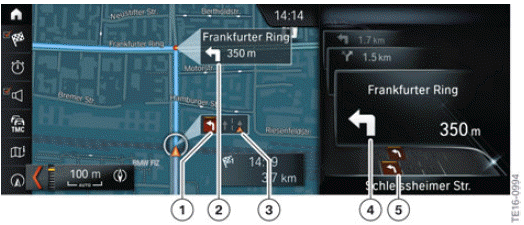 G30 turn-off recommendation
Lane recommendation on the map
Turn-off recommendation on the map
Lane in which the vehicle is currently located
Turn-off recommendation in the assistance window
Lane recommendation in the assistance window
READ NEXT:
The customer is given a three-year subscription for navigation map updates for both navigation systems (Professional Navigation System (OE 609). Furthermore, automatic updating of the navigation map
G30 ParkNow App. ParkNow displays parking availability in the surrounding area and permits cash-less and ticket-less parking on the street and in multi-storey parking garage. The parking process ca
SEE MORE:
General information Follow the information regarding the connection of mobile devices to the USB interface in the section on USB connections. In the center armrest A USB interface is located in the center armrest. Properties: USB port Type C. For charging of mobile devices. Charge current: ma
Blue The mobile phone is charging. The blue LED stays illuminated once the inserted mobile phone with Qi capability is fully charged. Orange The mobile phone is not charging. Temperature on the mobile phone possibly too high or foreign object in charging tray. Red The mobile phone is n