BMW 5 Series: Crankcase
Honing process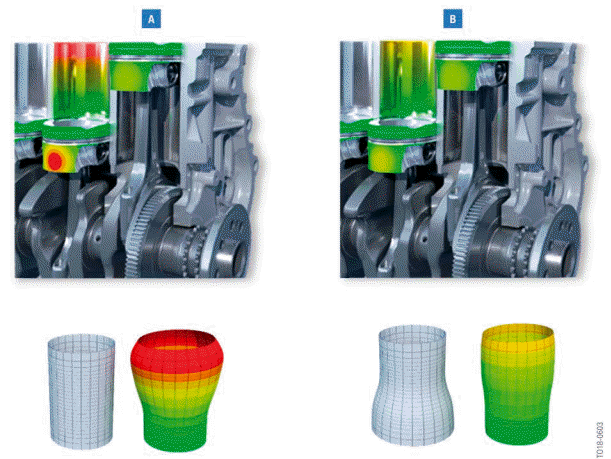 Honing process "old/new"
Previous manufacturing process of internal cylindrical honing
New manufacturing process of form honing
The cylindrical bore hole of a combustion engine becomes deformed during the operating condition by thermal loads. Form honing allows this deformation to be achieved in production, so that there is an almost cylindrical shape in the operating condition. This has a positive effect on the emissions quality, oil and fuel consumption, as well as output and wear.
READ NEXT:
Features: Chain drive at the side of the engine emitting the forces Single-part chain drive for driving the camshafts Single sleeve-type chain 8 mm Electric motor of the combined oil-vacuum
Comparison between chain track of B58 engine and B58TU engine Chain track, two-part timing chain drive B58 engine Chain track, single-part timing chain drive B58TU engine 6-cylinder engine Up
SEE MORE:
B468/B58 Engine The B46/B58 engines have two separate coolant circuits. The coolant in the low-temperature coolant circuit to cool the charge air. The coolant in the high-temperature coolant circuit to cool the engine. The two coolant circuits each have their own expansion tank. Overview of the
General information Regularly remove foreign objects such as leaves in the area below the windshield when the hood is raised. Wash your vehicle frequently, particularly in winter. Intense soiling and road salt can damage the vehicle. Steam blaster and high-pressure washer Safety information NOTICE