BMW 5 Series: Camera perspective
Overview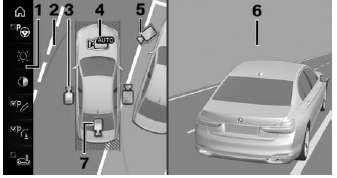 Function bar
Selection window
Side view
Automatic camera perspective
Movable camera perspective
Camera image
Rearview camera
Selection window
The individual camera perspectives can be selected in the selection window via iDrive.
Side view
The side view can be selected for the right or left vehicle side.
This view helps when positioning the vehicle at the curb or with other obstacles on the side by displaying the side surroundings.
The side view looks from rear to front and in case of danger, focuses automatically on possible obstacles.
Automatic camera perspective
The automatic camera perspective shows a steering-dependent view in the respective driving direction.
This perspective adapts to the respective driving situation.
As soon as obstacles are detected, the view changes to a fixed display of the area in front or at the rear behind the bumper or, if necessary, changes to a side view.
When reverse gear is engaged, the automatic camera perspective is closed and the system uses a fixed perspective of the rearview camera.
If necessary, manually select the automatic camera perspective when reverse gear is engaged.
The automatic camera perspective will be retained for the current parking maneuver.
Movable camera perspective
With selection of the movable camera perspective, a circle appears on the Control Display.
By turning the Controller or via touch function, specified perspectives on the circle can be selected.
The current perspective is marked with a camera symbol.
With BMW Gesture Control: the movable camera perspective can be moved around the circle using BMW Gesture Control.
To leave the circle, move the Controller sideways and press or tap the active camera symbol via the touchscreen.
Rearview camera
This view shows the picture of the rearview camera.
Function bar
Assistance functions can be activated via the function bar and settings applied.
"Parking Assistant"
"Brightness"
"Contrast"
"Parking aid lines"
"Obstacle marking"
"Car wash"
"Settings": apply settings, for instance to use the activation points for Panorama View.
READ NEXT:
General information More than one assistance function can be active at the same time. The following assistance functions can be manually activated: "Parking aid lines". "Obstacle marking". "Ca
Concept The system provides an early look at cross traffic at blind driveways and intersections. General information Road users concealed by obstacles to the left and right of the vehicle can only be
Brightness and contrast can be adjusted with Surround View or Panorama View switched on. Via iDrive: 1. Move the Controller to the left. 2. "Brightness" "Contrast" 3. Set the desired value. F
SEE MORE:
Concept The system supports parking in the following situations: When parking parallel to the road, parallel parking. When reverse parking diagonally to the road, diagonal parking. The system orients itself with the middle of the parking space during diagonal parking. General information Ha
The purpose of the front passenger airbag is to reduce the risk of accident to the front passenger in the event of a front-end crash. The front passenger airbag is located in the dashboard. When the front passenger airbag expands, the dashboard tears open at defined points. A two-stage gas genera