BMW 5 Series: Steering
The G30 has Electronic Power Steering (EPS) in the following different versions:
Standard steering 12 V
Integral Active Steering 12 V
Integral Active Steering 24 V
Overview of equipment specifications
The following graphic shows the installation positions of the different system components.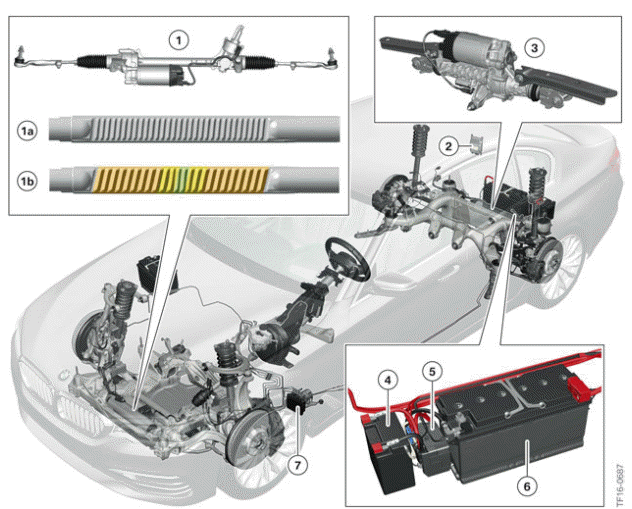 Overview of steering system types in the G30
Electromechanical Power Steering
1a - Conventional rack geometry (standard steering)
1b - Variable rack geometry (Integral Active Steering)
Power Control Unit (PCU) (only for 24 V steering)
Rear axle slip angle control Integral Active Steering
12 V auxiliary battery (only for 24 V steering)
Separating element (only for 24 V steering)
12 V battery
Dynamic Stability Control (DSC)
Only the basic steering is offered in some vehicle types.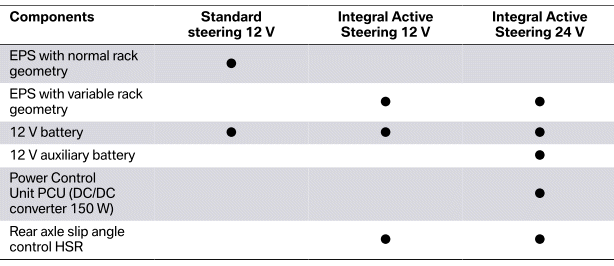 Integral Active Steering is offered as 12 V or 24 V steering depending on the front axle load.
The following information for the voltage range of the Integral Active Steering applies for series launch.
The values can change at any point during series production.
Vehicles

Steering wheels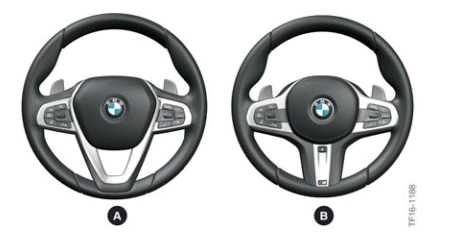 Overview of the steering wheel versions on the G30
Sports steering wheel with shift paddles (382 mm) standard on all G30 models except on the M550i xDrive
M sports steering wheel with shift paddles (373 mm) standard on the M550i xDrive, optional on all other G30 models
The following additional functions in the steering wheel can be present as options:
Heated steering wheel.
Steering wheel vibration for assistance systems such as lane departure and lane change warning.
Touch detection for the traffic jam assistant function.
Steering column adjustment
Steering column is adjusted electronically.

READ NEXT:
System overview of electric active stabilization in the G30 Electric active roll stabilization front (EARSV) Front right vertical acceleration sensor Auxiliary battery in the engine compartment
SEE MORE:
Concept The cargo area can be enlarged by folding down the rear seat backrest. General information The rear seat backrest is divided at a ratio of 40- 20-40. The side rear seat backrests and the center section can be folded down separately. The rear seat backrests can be folded down from the cargo
The system measures potential parking spaces when driving past at a speed below approximately 22 mph (35 km/h) even without the system having been activated. The parking spaces are measured by two additional ultrasonic sensors, which are integrated into the front wheel arch. Two additional u