BMW 5 Series: Refueling
General information
Follow the fuel recommendation.
Safety information
NOTICE
With a driving range of less than 30 miles/50 km the engine may no longer have sufficient fuel. Engine functions are not ensured anymore. There is a risk of damage to property. Refuel promptly.
Fuel cap
Opening
1. To open the fuel filler flap, press on the rear edge, arrow. The fuel filler flap opens.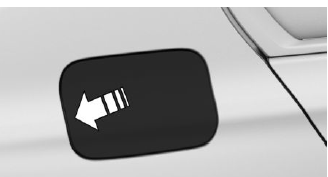 2. Turn the fuel cap counterclockwise.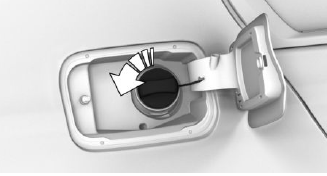 3. Place the fuel cap in the bracket attached to the fuel filler flap.
Closing
Warning
The retaining strap of the fuel cap can be jammed and crushed during closing. The cap cannot be correctly closed. Fuel or fuel vapors can escape. There is a risk of injury or risk of damage to property. Pay attention that the retaining strap is not jammed or crushed when closing the cap.
1. Fit the cap and turn it clockwise until you clearly hear a click.
2. Press on the fuel filler flap until it engages.
Emergency unlocking
It may be necessary in certain situations to unlock the fuel filler flap manually, for instance with an electrical fault.
Have fuel filler flap unlocked by a dealer's service center or another qualified service center or repair shop.
Follow the following when refueling
General information
When refueling, insert the filler nozzle completely into the filler pipe. Lifting up the fuel pump nozzle during refueling causes:
Premature switching off.
Reduced return of the fuel vapors.
The fuel tank is full when the filler nozzle clicks off the first time.
Make sure that the fuel cap is closed properly after refueling, otherwise the emissions warning light may light up.
Follow safety regulations posted at the gas station.
Safety information
NOTICE
Fuels are toxic and aggressive. Overfilling of the fuel tank can damage the fuel system. Painted surfaces may be damaged by contact with fuel.
Escaping fuel can harm the environment. There is a risk of damage to property. Avoid overfilling.
READ NEXT:
Fuel recommendation General information Depending on the region, many gas stations sell fuel that has been customized to winter or summer conditions. Fuel that is available in winter, for instance hel
General information The tire characteristics and tire inflation pressure influence the following: The service life of the tires. Road safety. Driving comfort. Fuel consumption. Safety informatio
SEE MORE:
Renaming folders or tracks Changing a folder name to the name of an album does not change the album designation in the track information of the individual tracks. Changing a track name changes its file name, however it does not change the track name stored in the track information. 1. "MEDIA". 2. "
General information Some iDrive functions can be operated using the touchpad on the Controller. Selecting functions Via iDrive: 1. "My Vehicle". 2. "iDrive settings". 3. "Touchpad". 4. Select the desired setting: "Speller": enter letters and numbers. "Map": use the map. "Search fields": to wr