BMW 5 Series: Rear window roller sunblind
Safety information
NOTICE
When operating the roller sunblind, objects stored on the shelf may damage the roller sunblind.
There is a risk of damage to property.
Make sure that the area of movement of the roller sunblind is clear during the operation.
Overview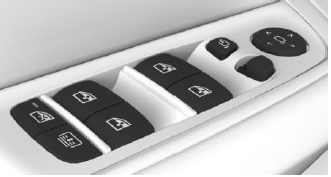 Button for the roller sunblind.
Operation

Press the button to open the closed roller sunblind or to close the open roller sunblind.
If the button is pressed again during the movement, the roller sunblind is moved in the opposite direction.
System limits
If you are no longer able to move the roller sunblind after having activated it consecutively a number of times, the overheating protection mechanism is active. The system is blocked for a limited time to prevent overheating. Let the system cool.
The roller sunblind cannot be moved at low interior temperatures.
Roller sunblinds, rear side windows
Warning
With closed roller sunblinds and open windows, the roller sunblinds may be strained while driving due to the wind. The roller sunblinds may be damaged and vehicle occupants may be harmed. There is a risk of injury. Do not open the windows while driving if the roller sunblinds are closed.
Pull out the roller sunblind at the strap and hook it onto the bracket.
READ NEXT:
General information The glass sunroof and the sun protection are operated using the same switch. Safety information Warning Body parts can be jammed when operating the glass sunroof. There is a risk o
Safety information Warning Seat adjustments while driving can lead to unexpected movements of the seat. Vehicle control could be lost. There is a risk of accident. Only adjust the seat on the driver'
SEE MORE:
Automatic climate control Temperature. Climate control operation. Maximum cooling. AUTO program. Recirculated-air mode. Air flow, manual. Air distribution, manual. SYNC program. Defrost and defog window. Rear window defroster. Active seat ventilation. Seat heating. Opening the Climate men
Switches in the vehicle The light switch element is located next to the steering wheel. Front fog lights. Night Vision. Lights off. Daytime running lights. Parking lights. Automatic headlight control. Adaptive light functions. Low beams. Instrument lighting. Right roadside parking light.